T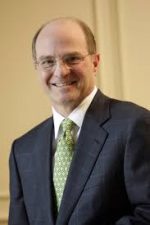 Tom L. Ward is a prominent Oklahoma City businessman and philanthropist. He is currently the Chairman and CEO of Tapstone Energy, a privately owned energy company in Oklahoma City. He is the founder and former Chairman and CEO of SandRidge Energy, Inc. and is the former President, Chief Operating Officer and co-founder of Chesapeake Energy.
In 2013, Ward was ousted from his position as CEO of SandRidge Energy after accusations surfaced of Ward profiting from "self-dealing" in a series of transactions in which companies and trusts owned and controlled by his family have bought land and then sold it to SandRidge at a mark-up. After thorough investigation, "nothing improper and no wrongdoings" were uncovered.Ward's ouster from SandRidge resulted in a one-time severance payment of $90.9 million due to Ward in spite of the company's performance during his tenure. Since Ward's departure, SandRidge performance has dropped over 90%,.
Philanthropy and Community Involvement:
Ward co-founded White Fields in 2000 and serves as the Chairman of the Board. White Fields' mission is to provide a continuum model of care offering a long-term home for abused and neglected boys. They strive to meet the physical, emotional, educational and spiritual needs of these boys by giving them a long-term home, counseling and guidance.
Ward was a member of the Professional Basketball Club LLC, which owns the NBA's Oklahoma City Thunder, until he sold his interest to George Kaiser in April 2014.
Ward is a committed member of several education-affiliated organizations. He is a former Board of Trustees member for Anderson University in Indiana, is a member of the Economic Advisory Council of the Federal Reserve Bank of Kansas City, and participates on the Board of Visitors for the OU Health Sciences Center. He is also on the board of the Department of Medicine, the Board of Trustees for The World Golf Foundation, and a member of The First Tee, which is an organization developed to help "shape the lives of kids and teens from all walks of life by introducing them to values inherent in the game of golf". Ward also contributes as a member of the Nopetro Board of Directors.
Ward has provided substantial scholarship money to Oklahoma colleges and universities to help students achieve their higher education goals and find work in the state after college. Ward played a major role in revitalizing downtown's Central Business District. Ward oversaw the renovation of the former Kerr-McGee Tower into SandRidge's corporate headquarters, which is now known as SandRidge Commons. Ward is notable in restoring rundown buildings, such as Oklahoma City's historical Braniff Building, by adding retail, contemporary office space, and restaurants. Ward also directed 120 Kerr from a "dilapidated parking structure," to a modern office building.
In 2014, Ward invested $17 million dollars into the 96-year-old vacant Mideke building in Bricktown, in downtown Oklahoma City, to reestablish it as Tapstone's headquarters. Renovations include the east alley wall of the warehouse being modified with a "transparent glass façade," and a partial revamp of the interior by integrating existing historical architectural elements into the new design. Additional renovations include a 3,600 square feet expansion for an All About Chai Coffee and Tea.
Ward was highly active in sponsoring major downtown activities in December 2014, such as the SandRidge Tree Lighting Festival and SandRidge Santa Run. Ward and SandRidge also worked intently with Alva's minimum security Bill Johnson Correctional Center located in Oklahoma. "Through the partnership, rehabilitation, non-violent inmates earn the opportunity to return back to the workplace".
In 2005, Ward provided a free campus for SeeWorth Academy with an ideal location. Distant enough from the city, 400 students were finally able to gain "balance from the curriculum," without any outside distractions from "gangs and drugs".
Honors and Awards:
Ward was inducted into the Oklahoma Heritage Foundation's Hall of Fame in 2012 and was one out of four honorees chosen for the Neal Horton Award at the 2014 Dean A. McGee Awards Ceremony for his role in the revitalization of downtown's Central Business District. On April 2006, Ward was chosen as a Friend of Children Honoree by the Oklahoma Institute for Child Advocacy. Ward was honored by Big Brothers Big Sisters with the Judge William R. Saied Founder's Award for his advancement of mentoring in Oklahoma City. In 2008, The National Philanthropy Day Past Award was also presented to Ward for being an Outstanding Philanthropist.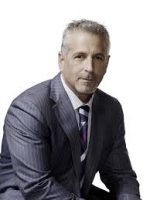 Tony Aquila (born October 1966) is an American businessman. He is the founder, chairman and CEO of Solera Holdings, a technology company that provides risk and asset management software and services to the automotive industry, as well as the global property and casualty insurance industry. In 2013, Aquila received the Ernst & Young's 2013 Entrepreneur of the Year award in the Technology category, the same year in which Aquila was recognized as the highest-paid chief executive in the Dallas-Fort Worth area. Prior to founding Solera, Aquila served in executive positions with Mitchell International, Inc., Ensera, Inc. and MaxMeyer."
Early life:
Aquila was born in Richmond, California to an immigrant and military family. After dropping out of high school, Aquila worked at his uncle's body shop sweeping floors and replacing windshields, and later joined the United States Army.
Business career:
Solera Holdings, Inc.:
Since founding the company in 2005, Aquila has served as the chairman and CEO of Solera Holdings.
Mitchell International, Inc.:
Aquila is the former president and chief operating officer of Mitchell International, Inc., a company that provides claims estimating and communications software to insurance carriers. Aquila joined Mitchell in 2001 after it had acquired Ensera.
Ensera, Inc.:
Aquila was founder and CEO of Ensera, Inc., a claims workflow software company for the vehicle insurance and collision industry.
MaxMeyer America, Inc.:
Prior to Ensera, Aquila was founder and CEO of MaxMeyer America, Inc. (a subsidiary of MaxMeyer Duco, SPA, Italy), an importer and distributor of European automotive refinishing products. In 1997, PPG Industries acquired MaxMeyer Duco, SPA.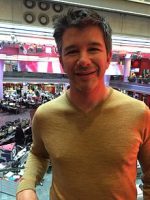 Travis Cordell Kalanick (born August 6, 1976) is an American entrepreneur. He is the co-founder of the peer-to-peer file sharing company Red Swoosh and the transportation network company Uber.
In 2014, he entered the Forbes list of the 400 richest Americans at position 290, with an estimated net worth of $6 billion.
Early life and education:
Kalanick was born on August 6, 1976 in Los Angeles, California. He lived in Northridge, California, where he graduated from Granada Hills High School and later enrolled in college at the University of California, Los Angeles, to study computer engineering.While at the University of California, Los Angeles he joined the Theta Xi Fraternity. His mother, Bonnie (Horwitz), worked in retail advertising for the Los Angeles Daily News, and his father, Donald E. Kalanick, was a civil engineer for the city of Los Angeles. His father's family is Catholic with Czech and Austrian roots.His mother is Jewish. He has two half-sisters and his brother Cory is a firefighter.
Career:
Kalanick speaking at DLD 2015 in Munich, Germany
Kalanick speaking at the Le Web conference in December 2013
Scour:
In 1998, Travis Kalanick, along with other classmates, dropped out of UCLA to help found Scour Inc. with Dan Rodrigues, a multimedia search engine, and Scour Exchange, a peer-to-peer file sharing service. In 2000, the Motion Picture Association of America, the Recording Industry Association of America (RIAA), and the National Music Publishers Association (NMPA) brought a lawsuit against Scour, alleging copyright infringement. In September of that year, Scour filed for bankruptcy to protect itself from the lawsuit.
Red Swoosh:
In 2001, with Scour's engineering team, Kalanick started a new company called Red Swoosh, another peer-to-peer file-sharing company. Red Swoosh software took advantage of increased bandwidth efficiency on the Internet to allow users to transfer and trade large media files, including music files and videos. In 2007, Akamai Technologies acquired the company for $19 million.
Uber:
In 2009, along with Garrett Camp, Kalanick founded Uber, a mobile application that connects passengers with drivers of vehicles for hire and ridesharing services.Uber operates in 66 countries and in more than 507 cities around the world. Uber faced some controversy in some cities in North America, like Washington D.C., Chicago, Toronto, and New York City. The company faces fierce competition from similar services and "clone companies" in cities like London. In November 2014, Kalanick faced criticism for creating a "win at all costs" culture in his Uber organization. Public relations problems the firm faced included Kalanick's comments to GQ about how easy it is for him to attract women now, concern about his blasé attitude regarding safety issues for female customers, and his tolerance of executive Emil Michael, who recommended creating a large budget to smear critics. Although Kalanick apologized for Michael's remarks, he did not censure him severely enough to appease some critics.