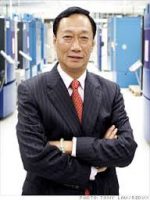 Long Business Description
Guo Tai-ming, also known as Terry Guo,(born October 8, 1950) is a Taiwanese tycoon who is the founder and chairman of Foxconn, a company that manufactures electronics on contract for other companies such as Apple Inc. It is the largest such electronics manufacturing services company in the world, with factories in several countries, mostly in mainland China, where it employs 1.2 million people and is its largest exporter.
Early life:
Guo was born in Banqiao Township, Taipei County (now Banqiao District, New Taipei). His parents lived in mainland China's Shanxi Province before they fled to Taiwan in 1949, where Guo was born. His father had worked as a policeman in the past. As the first child of his family, Guo received education from elementary school to post college. After graduation, he continued to work in a rubber factory, working at a grinding wheel, and medicine plant until the age of 24. Guo has two younger brothers, Tai-Chiang Guo and Tai-Cheng Guo, who have both become successful businessmen as well.
Founding of Hon Hai:
Guo founded Hon Hai in Taiwan in 1974 with $7500 in startup money and ten elderly workers, making plastic parts for television sets in a rented shed in Tucheng, a suburb of Taipei. A turning point came in 1980 when he received an order from Atari to make the console joystick. He further expanded his business in the 1980s by embarking on an 11-month trip across the US in search of customers. As an aggressive salesman, Guo broke in uninvited into many companies and was able to get additional orders, despite having security called on him multiple times.