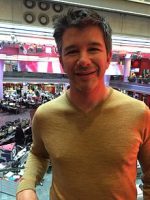 Long Business Description
Travis Cordell Kalanick (born August 6, 1976) is an American entrepreneur. He is the co-founder of the peer-to-peer file sharing company Red Swoosh and the transportation network company Uber.
In 2014, he entered the Forbes list of the 400 richest Americans at position 290, with an estimated net worth of $6 billion.
Early life and education:
Kalanick was born on August 6, 1976 in Los Angeles, California. He lived in Northridge, California, where he graduated from Granada Hills High School and later enrolled in college at the University of California, Los Angeles, to study computer engineering.While at the University of California, Los Angeles he joined the Theta Xi Fraternity. His mother, Bonnie (Horwitz), worked in retail advertising for the Los Angeles Daily News, and his father, Donald E. Kalanick, was a civil engineer for the city of Los Angeles. His father's family is Catholic with Czech and Austrian roots.His mother is Jewish. He has two half-sisters and his brother Cory is a firefighter.
Career:
Kalanick speaking at DLD 2015 in Munich, Germany
Kalanick speaking at the Le Web conference in December 2013
Scour:
In 1998, Travis Kalanick, along with other classmates, dropped out of UCLA to help found Scour Inc. with Dan Rodrigues, a multimedia search engine, and Scour Exchange, a peer-to-peer file sharing service. In 2000, the Motion Picture Association of America, the Recording Industry Association of America (RIAA), and the National Music Publishers Association (NMPA) brought a lawsuit against Scour, alleging copyright infringement. In September of that year, Scour filed for bankruptcy to protect itself from the lawsuit.
Red Swoosh:
In 2001, with Scour's engineering team, Kalanick started a new company called Red Swoosh, another peer-to-peer file-sharing company. Red Swoosh software took advantage of increased bandwidth efficiency on the Internet to allow users to transfer and trade large media files, including music files and videos. In 2007, Akamai Technologies acquired the company for $19 million.
Uber:
In 2009, along with Garrett Camp, Kalanick founded Uber, a mobile application that connects passengers with drivers of vehicles for hire and ridesharing services.Uber operates in 66 countries and in more than 507 cities around the world. Uber faced some controversy in some cities in North America, like Washington D.C., Chicago, Toronto, and New York City. The company faces fierce competition from similar services and "clone companies" in cities like London. In November 2014, Kalanick faced criticism for creating a "win at all costs" culture in his Uber organization. Public relations problems the firm faced included Kalanick's comments to GQ about how easy it is for him to attract women now, concern about his blasé attitude regarding safety issues for female customers, and his tolerance of executive Emil Michael, who recommended creating a large budget to smear critics. Although Kalanick apologized for Michael's remarks, he did not censure him severely enough to appease some critics.