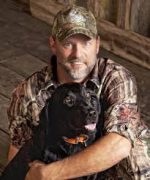 Long Business Description
Toxey Daniel Haas III (born January 21, 1960) is an American entrepreneur and conservationist. In 1986, he founded Haas Outdoors, Inc. where he currently serves as CEO. Haas has been recognized and awarded in the outdoor community for his efforts in both business and conservation.
Haas Outdoors, Inc.:
Haas had always been enthused by the outdoors. An avid hunter and fisherman, he had an idea to improve the conventional camouflage that everyone used. Haas gained inspiration from leaves, twigs, and dirt and pursued his first camouflage pattern. After being turned down many times searching for someone to print his pattern, Crystal Springs Print Works in Georgia agreed to give him a chance. However, they had a 10,000 yard minimum, and he could only afford 800 yards.Haas convinced them to make an exception, and his first pattern ''Bottomland'' was printed.
Haas officially left his job at Bryan for his entrepreneurial pursuits and enlisted the help of his friend Bill Sugg as his partner. In 1986, Toxey Haas founded Mossy Oak Brand Camouflage and its parent company Haas Outdoors, Inc.
Mossy Oak:
After the company's inception, Bob Dixon, Ronnie "Cuz" Strickland, Carsie Young, and Cindy Cliett joined as the next employees. The first Mossy Oak clothing was sewn by Haas' mother in his childhood home. Dixon, Strickland, Sugg, and Haas hit the road with the first Bottomland pattern, and Mossy Oak started to gain momentum. Mossy Oak gave Haas the path he needed to build an outdoor empire for the hunting and fishing community. Mossy Oak has grown to feature nearly twenty patterns and is one of the most recognizable outdoor brands in the country.
Business ventures:
Mossy Oak allowed Haas to expand his business into other facets of the outdoor world.
Mossy Oak Properties
Toxey Haas and his longtime friend Chris Hawley cofounded Mossy Oak's real estate company Mossy Oak Properties in 1999. Hawley, who lives in Livingston, Alabama, serves as the company's CEO and President. Initially in Mississippi and Alabama, Mossy Oak Properties currently has 70 offices and 300 agents in 19 states.
Haas also owns land in Mississippi and Alabama.
BioLogic:
Haas, along with wildlife biologist Dr. Grant Woods, cofounded BioLogic in 1999. Dr. Woods spent years researching the feeding habits of wildlife, including visits with research scientists and deer farmers in New Zealand studying their production methods. BioLogic is also headquartered in West Point.
Nativ Nurseries:
Founded in 2007, Nativ Nurseries is headquartered in West Point and grows and sells trees for landowners.
Mossy Oak Golf Club:
Opening in September of 2016, Mossy Oak Golf Club will be the second course at Old Waverly Golf Club.The course is a collaboration between world-renowned golf architect Gil Hanse, Old Waverly's founder George Bryan, and Toxey Haas. Keeping in line with Mossy Oak's brand identity, Mossy Oak Golf Club will be known as Nature's Golf.
Awards and recognition:
Mississippi Small Business Person of the Year (1989)
Mississippi's Top 40 Under 40 (1994)[12]
West Point Hall of Fame (1999)
Catch-A-Dream "Corporate Vision Award" (2004)
Legends of the Outdoors Hall of Fame (2009)
The Outdoor Life 25 (2009)
Ducks Unlimited Hero of Conservation (2009) Other honorees include Bill Sugg, President and CFO of Haas Outdoors, Morgan Freeman, Billy Joe Cross, and Will Primos
POMA Heritage Award (2012)
Mississippi Innovators to Watch (2015)