H
Herbert Fisk Johnson III or H. Fisk Johnson III (born May 19, 1957), known as "Fisk", is the fifth generation of his family to lead S. C. Johnson & Son, Inc of Racine, WI, as chairman and CEO.
Early life:
He is the son of the late Samuel Curtis Johnson, Jr. and Imogene Powers Johnson, and the great-great-grandson of company founder Samuel Curtis Johnson, Sr. Fisk, his three siblings and mother each have a net worth of $3 billion as of May 2015.
Education:
He has a BA in Chemistry and Physics, 1979; Master of Engineering, 1980; MS in Physics, 1982; MBA in Marketing and Finance, 1984; and PhD in Physics, 1986 — all from Cornell University and Cornell's S.C. Johnson Graduate School of Management.
Career:
He joined the family business in 1987 as a marketing associ
ate and served in a number of roles. He was appointed chairman in 2000, and CEO in 2004.
On behalf of the company, he accepted a 2006 Ron Brown Award, a presidential award for corporate leadership.
Public policy work:
He has served as a:
member of President's Advisory Committee for Trade Policy and Negotiation
member of the World Business Council for Sustainable Development
director on the board of Conservation International
member of the Executive Board of CI's Center for Environmental Leadership in Business
trustee emeritus of Cornell University
Patents:
He is one of the inventors listed on U.S. Patent #7028405, entitled "Vibratory Shaver", and U.S. patent application #20060238136, entitled "Lamp and bulb for illumination and ambiance lighting".
Charity:
His extended family is the named benefactor of the Samuel Curtis Johnson Graduate School of Management at Cornell University. He has supported Chicago's Shedd Aquarium.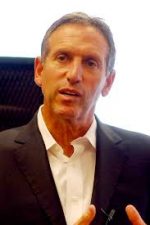 Howard D. Schultz (born July 19, 1953) is an American businessman. He is best known as the chairman and CEO of Starbucks and a former owner of the Seattle SuperSonics. He was a member of the Board of Directors at Square, Inc. In 1998, Schultz co-founded Maveron, an investment group, with Dan Levitan. In 2012, Forbes magazine ranked Schultz as the 354th richest person in the United States, with a net worth of $1.5 billion.
Early life and education:
Schultz was born to a Jewish family on July 19, 1953 in Brooklyn, New York, the son of ex-United States Army trooper and then truck driver Fred Schultz, and his wife Elaine. With his younger sister, Ronnie, and brother, Michael, he grew up in the Canarsie Bayview Houses of the New York City Housing Authority. As Schultz's family was poor, he saw an escape in sports such as baseball, football, and basketball, as well as the Boys and Girls Club. He went to Canarsie High School, from which he graduated in 1971. In high school, Schultz excelled at sports and was awarded an athletic scholarship to Northern Michigan University – the first person in his family to go to college. A member of Tau Kappa Epsilon, Schultz received his bachelor's degree in Communications in 1975.
Career:
After graduating, Schultz worked as a salesperson for Xerox Corporation and was quickly promoted to a full sales representative. In 1979 he became a general manager for Swedish drip coffee maker manufacturer, Hammarplast, where he became responsible for their U.S. operations with a staff of twenty. In 1981, Schultz visited a client of Hammarplast, a fledgling coffee-bean shop called Starbucks Coffee Company in Seattle, curious as to why it ordered so many plastic cone filters. He was impressed with the company's knowledge of coffee and kept in contact over the next year, expressing interest in working with them. A year later, he joined Starbucks as the Director of Marketing. On a buying trip to Milan, Italy for Starbucks, Schultz noted that coffee bars existed on practically every street. He learned that they not only served excellent espresso, they also served as meeting places or public squares; they were a big part of Italy's societal glue, and there were 200,000 of them in the country.
On his return, he tried to persuade the owners (including Jerry Baldwin) to offer traditional espresso beverages in addition to the whole bean coffee, leaf teas and spices they had long offered. After a successful pilot of the cafe concept, the owners refused to roll it out company-wide, saying they didn't want to get into the restaurant business. Frustrated, Schultz decided to leave Starbucks in 1985. He needed $400,000 to open the first store and start the business. He simply did not have the money and his wife was pregnant with their first baby. Jerry Baldwin and Gordon Bowker offered to help. Schultz also received $100,000 from a doctor who was impressed by Schultz's energy to "take a gamble". By 1986, he raised all the money he needed to open the first store 'Il Giornale' after the Milanese newspaper. Two years later, the original Starbucks management decided to focus on Peet's Coffee & Tea and sold its Starbucks retail unit to Schultz and Il Giornale for $3.8 million.
Schultz renamed Il Giornale with the Starbucks name, and aggressively expanded its reach across the United States. Schultz's keen insight in real estate and his hard-line focus on growth drove him to expand the company rapidly. Schultz did not believe in franchising, and made a point of having Starbucks retain ownership of every domestic outlet.
On 26 June 1992, Starbucks had its initial public offering and trading of its common stock under the stock ticker. The offering was done by Alex, Brown & Sons Inc. and Wertheim Schroder & Co. Inc.
Schultz authored the book Pour Your Heart Into It: How Starbucks Built a Company One Cup at a Time with Dori Jones Yang in 1997. His second book Onward: How Starbucks Fought for Its Life Without Losing Its Soul with Joanne Gordon, was published in 2011.
On January 8, 2008 Schultz returned as CEO of Starbucks after an eight-year hiatus. At this time, Schultz was earning a total compensation of $9,740,471, which included a base salary of $1,190,000, and options granted of $7,786,105. Schultz is a significant stakeholder in Jamba Juice.
On the first of November 2013, it was announced that Schultz had stepped down from the board of Square, to be replaced by former Goldman Sachs executive David Viniar.
Ownership of the Seattle SuperSonics:
Schultz is the former owner of the NBA's Seattle SuperSonics. During his tenure as team owner, he was criticized for his naïveté and propensity to run the franchise as a business rather than a sports team. Schultz feuded with player Gary Payton, feeling that Payton disrespected him and the team by not showing up to the first day of training camp in 2002. On July 18, 2006, Schultz sold the team to Clay Bennett, chairman of the Professional Basketball Club LLC, an Oklahoma City ownership group, for $350 million, after having failed to convince the city of Seattle to provide public funding to build a new arena in the Greater Seattle area to replace KeyArena. At the time of the team's sale, it was speculated that the new owners would move the team to their city some time after the 2006–2007 NBA season. On July 2, 2008, the city of Seattle reached a settlement with the new ownership group and the SuperSonics moved to Oklahoma City and became the Thunder for the 2008–09 NBA season. The sale to the out-of-state owners considerably damaged Schultz's popularity in Seattle. In a local newspaper poll, Schultz was judged "most responsible" for the team leaving the city. Before the city of Seattle settled with the Oklahoma City ownership group, Schultz filed a lawsuit against Bennett – in April 2008 – to rescind the July 2006 sale based on what Schultz claimed was fraud and intentional misrepresentation. However, Schultz dropped the lawsuit in August 2008. When Bennett purchased the SuperSonics and its sister franchise in the WNBA, the Seattle Storm, for $350 million, he agreed to a stipulation that he would make a "good-faith best effort" for one year to keep both teams in Seattle. The sincerity of the good-faith effort was widely disputed by the way Bennett acted and by direct quotes from his partner Aubrey McClendon. On January 8, 2008, Bennett sold the Storm to Force 10 Hoops, LLC, an ownership group of four Seattle women, which kept the team in Seattle.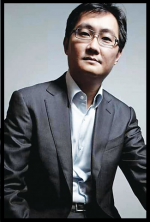 Mama Huateng was born into the world in on 29th October, 1971 in Chaoyang, Shantou, Guangdong. He is a Chinese very rich person business head honcho. He is the organizer, director and CEO of Tencent, Asia's most significant organization, one of the biggest Internet and innovation organizations, and one of the greatest speculation, gaming and diversion combinations on the planet. The organization fosters China's greatest portable texting administration, WeChat, and its auxiliaries give media, diversion, installment frameworks, cell phones, web related administrations, esteem added administrations and web based publicizing administrations, both in China and worldwide. In 2007, 2014, and 2018, Time magazine named him one of the world's most persuasive individuals, while in 2015, Forbes acknowledged him as one of the world's most influential individuals. In 2017, Fortune positioned him as among the top financial specialists of the year. In 2018, he was named one of the "Most Powerful People In The World" by the CEOWORLD magazine. Mama was a representative to the Shenzhen Municipal People's Congress and an agent in the twelfth National People's Congress. Being one of "Fortune world's most prominent pioneers", Ma is referred to for his position of safety character when contrasted with individual Chinese finance manager and Alibaba originator Jack Ma's cordial character. Mama has been contrasted with American financial backer Warren Buffett for their comparable speculation draws near, and frequently depicted as an "forceful acquisitor".
Mama Huateng's dad, Ma Chenshu found a new line of work as a port administrator in Shenzhen, the youthful Ma went with him. He was taken on Shenzhen University in 1989, and graduated in 1993 with a four year college education in software engineering. Mama utilizes the epithet Pony, gotten from the English interpretation of his family name Ma (马), which signifies "horse." Ma Huateng only occasionally shows up in the media and is known for his cryptic way of life. He has faith in the adage: "Thoughts are not significant in China – execution is." Ma Huateng's abundance comes from the 9.7 percent stake in Tencent Holdings. He apparently claims property in Hong Kong and craftsmanship pieces worth US$150 million. He claims a redeveloped palatial home of 1,820 m2 (19,600 sq ft) in Hong Kong.
Mama's first occupation was with China Motion Telecom Development, a provider of media communications administrations and items, where he was accountable for creating programming for pagers. He purportedly acquired $176 each month. He additionally worked for Shenzhen Runxun Communications Co. Ltd. in the innovative work division for Internet calling administrations. Alongside four different cohorts, Ma Huateng went on to help establish Tencent in 1998. The organization's first item came after Ma took part in a show for ICQ, the world's first Internet texting administration, established in 1996 by an Israeli organization. Enlivened by the thought, Ma and his group dispatched in February 1999 a comparable programming, with a Chinese interface and a marginally extraordinary name – OICQ (or, Open ICQ). The item immediately got famous and collected in excess of 1,000,000 enlisted clients before the finish of 1999, making it one of the biggest such administrations in China. Discussing the establishing of Tencent, he revealed to China Daily in a 2009 meeting that "In the event that I have seen further, it is by remaining on the shoulders of monsters," rewording a statement ascribed to Isaac Newton and referring to the likenesses among ICQ and OICQ. "We realized our item had a future, however around then we just couldn't manage the cost of it," Ma recollected. To take care of the issue, Ma requested bank credits and surprisingly discussed selling the organization. Since Tencent's valued assistance OICQ was offered for nothing, the organization hoped to financial speculators to back its developing functional expenses. In 2000, Ma went to US speculation firm IDC and Hong Kong's telecom transporter Pacific Century CyberWorks (PCCW) who purchased 40% of Tencent's offers for US$2.2 million. With the pager market declining, Ma further developed the informing stage by permitting QQ clients to send messages to portable handsets. Thereafter, 80% of the organization's income came from bargains hit with telecom administrators who consented to share message expenses.