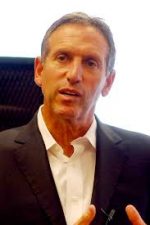 Long Business Description
Howard D. Schultz (born July 19, 1953) is an American businessman. He is best known as the chairman and CEO of Starbucks and a former owner of the Seattle SuperSonics. He was a member of the Board of Directors at Square, Inc. In 1998, Schultz co-founded Maveron, an investment group, with Dan Levitan. In 2012, Forbes magazine ranked Schultz as the 354th richest person in the United States, with a net worth of $1.5 billion.
Early life and education:
Schultz was born to a Jewish family on July 19, 1953 in Brooklyn, New York, the son of ex-United States Army trooper and then truck driver Fred Schultz, and his wife Elaine. With his younger sister, Ronnie, and brother, Michael, he grew up in the Canarsie Bayview Houses of the New York City Housing Authority. As Schultz's family was poor, he saw an escape in sports such as baseball, football, and basketball, as well as the Boys and Girls Club. He went to Canarsie High School, from which he graduated in 1971. In high school, Schultz excelled at sports and was awarded an athletic scholarship to Northern Michigan University – the first person in his family to go to college. A member of Tau Kappa Epsilon, Schultz received his bachelor's degree in Communications in 1975.
Career:
After graduating, Schultz worked as a salesperson for Xerox Corporation and was quickly promoted to a full sales representative. In 1979 he became a general manager for Swedish drip coffee maker manufacturer, Hammarplast, where he became responsible for their U.S. operations with a staff of twenty. In 1981, Schultz visited a client of Hammarplast, a fledgling coffee-bean shop called Starbucks Coffee Company in Seattle, curious as to why it ordered so many plastic cone filters. He was impressed with the company's knowledge of coffee and kept in contact over the next year, expressing interest in working with them. A year later, he joined Starbucks as the Director of Marketing. On a buying trip to Milan, Italy for Starbucks, Schultz noted that coffee bars existed on practically every street. He learned that they not only served excellent espresso, they also served as meeting places or public squares; they were a big part of Italy's societal glue, and there were 200,000 of them in the country.
On his return, he tried to persuade the owners (including Jerry Baldwin) to offer traditional espresso beverages in addition to the whole bean coffee, leaf teas and spices they had long offered. After a successful pilot of the cafe concept, the owners refused to roll it out company-wide, saying they didn't want to get into the restaurant business. Frustrated, Schultz decided to leave Starbucks in 1985. He needed $400,000 to open the first store and start the business. He simply did not have the money and his wife was pregnant with their first baby. Jerry Baldwin and Gordon Bowker offered to help. Schultz also received $100,000 from a doctor who was impressed by Schultz's energy to "take a gamble". By 1986, he raised all the money he needed to open the first store 'Il Giornale' after the Milanese newspaper. Two years later, the original Starbucks management decided to focus on Peet's Coffee & Tea and sold its Starbucks retail unit to Schultz and Il Giornale for $3.8 million.
Schultz renamed Il Giornale with the Starbucks name, and aggressively expanded its reach across the United States. Schultz's keen insight in real estate and his hard-line focus on growth drove him to expand the company rapidly. Schultz did not believe in franchising, and made a point of having Starbucks retain ownership of every domestic outlet.
On 26 June 1992, Starbucks had its initial public offering and trading of its common stock under the stock ticker. The offering was done by Alex, Brown & Sons Inc. and Wertheim Schroder & Co. Inc.
Schultz authored the book Pour Your Heart Into It: How Starbucks Built a Company One Cup at a Time with Dori Jones Yang in 1997. His second book Onward: How Starbucks Fought for Its Life Without Losing Its Soul with Joanne Gordon, was published in 2011.
On January 8, 2008 Schultz returned as CEO of Starbucks after an eight-year hiatus. At this time, Schultz was earning a total compensation of $9,740,471, which included a base salary of $1,190,000, and options granted of $7,786,105. Schultz is a significant stakeholder in Jamba Juice.
On the first of November 2013, it was announced that Schultz had stepped down from the board of Square, to be replaced by former Goldman Sachs executive David Viniar.
Ownership of the Seattle SuperSonics:
Schultz is the former owner of the NBA's Seattle SuperSonics. During his tenure as team owner, he was criticized for his naïveté and propensity to run the franchise as a business rather than a sports team. Schultz feuded with player Gary Payton, feeling that Payton disrespected him and the team by not showing up to the first day of training camp in 2002. On July 18, 2006, Schultz sold the team to Clay Bennett, chairman of the Professional Basketball Club LLC, an Oklahoma City ownership group, for $350 million, after having failed to convince the city of Seattle to provide public funding to build a new arena in the Greater Seattle area to replace KeyArena. At the time of the team's sale, it was speculated that the new owners would move the team to their city some time after the 2006–2007 NBA season. On July 2, 2008, the city of Seattle reached a settlement with the new ownership group and the SuperSonics moved to Oklahoma City and became the Thunder for the 2008–09 NBA season. The sale to the out-of-state owners considerably damaged Schultz's popularity in Seattle. In a local newspaper poll, Schultz was judged "most responsible" for the team leaving the city. Before the city of Seattle settled with the Oklahoma City ownership group, Schultz filed a lawsuit against Bennett – in April 2008 – to rescind the July 2006 sale based on what Schultz claimed was fraud and intentional misrepresentation. However, Schultz dropped the lawsuit in August 2008. When Bennett purchased the SuperSonics and its sister franchise in the WNBA, the Seattle Storm, for $350 million, he agreed to a stipulation that he would make a "good-faith best effort" for one year to keep both teams in Seattle. The sincerity of the good-faith effort was widely disputed by the way Bennett acted and by direct quotes from his partner Aubrey McClendon. On January 8, 2008, Bennett sold the Storm to Force 10 Hoops, LLC, an ownership group of four Seattle women, which kept the team in Seattle.