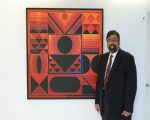 Long Business Description
Harsh Goenka (born December 1957) has been the chairman of RPG Enterprises, one of India's largest business groups, since 1988, when he took over from his father R. P. Goenka. Today RPG is a major player in domains like power generation and distribution, information technology, infrastructure, tyres, plantations and pharmaceuticals, with an annual turnover of around US $2 billion.
History
The Goenka family belongs to the Marwadi community of money-lenders and tradesmen, and hails originally from Rajasthan in western India. As early as the 19th century, an enterprising member of the family, Ramdutt Goenka, set up base in Kolkata, which was then the capital of India, and a major commercial hub of the British Empire. The family prospered in its traditional vocations of money-lending and trade. It was in the 1970s that Rama Prasad Goenka (b.1930) leveraged the family's wealth to take over a variety of industries and corporates and thus create a ready-made business conglomerate. Many of these corporates were stressed due to the socialistic policies and the "License-Raj" then prevalent in India, and others were in the marked due to disagreements within the families of their owners. In a series of takeovers, RPG acquired such companies relatively cheap and used his financial resources and business acumen to make them viable. In this way, by the end of the 20th century, RPG had cobbled together a significant business empire. The Goenka business empire is remarkable for two things: firstly, the fact that none of their major ventures were founded by them, all being take-overs; and secondly, the resultant diversity and incoherence of these companies.
In 2010, Rama Prasad 'RP' Goenka formally divided his business empire (which by then enjoyed revenue of Rs. 16,000 Crores) between his two sons, Harsh and Sanjiv. The following major companies fell to Harsh's share:
RPG Enterprises was founded by his father R. P. Goenka in 1979 and has its origins in the Goenka business family, which has been at the forefront of business in India for over a hundred years. From pioneering organized retail to running the country's first private sector power generating plants the group has also forged successful alliances with several of the world's leading corporations. Group Company, KEC International is one of the largest power transmission EPC companies in the world. CEAT is amongst the leading tyre companies in the country and a leader in neighboring Sri Lanka,
After completing his education in Kolkata, Harsh Goenka began his career in Mumbai. After a brief stint in a textile company, he became the Managing Director of CEAT in 1983, at the young age of 24.
Education and early life
Harsh Goenka graduated in Economics from St. Xavier's College, Calcutta, and thereafter pursued his MBA from the International Institute for Management Development (IMD), Lausanne, Switzerland and has since been inducted on the Board of IMD, Lausanne.
Today
Today, Harsh Goenka wears many hats. Apart from being the Chairman of the Board of RPG Enterprises, [KEC International Ltd], RPG Life Sciences, Zensar Technologies and Raychem RPG Ltd, he is also the Chairman of CEAT Ltd. He is also a Director of Bajaj Electricals Ltd, and SICOM Ltd. The above are large corporations in India.
Goenka is a past President of the Indian Merchants' Chamber, a large industrial body. In 1993, when elected President of the Indian Merchants Chamber, Harsh Goenka was the youngest to hold the prestigious post and his involvement in formulating and driving economic agenda for industry continues through various institutions. He is also a member of the Executive Committee of the Federation of Indian Chambers of Commerce and Industry (FICCI, India's premier industrial association). He is a member of the Board of Governors of the National Institute of Industrial Engineering (NITIE), one of the leading technical educational institutes in India. He also serves as a trustee of the Breach Candy Hospital Trust in Mumbai. Harsh Goenka has a vast experience in the field of management.
Other Interests
Harsh Goenka has one of the most prominent collections of contemporary art in the country, one that embraces several genres and styles and transcends several generations of artists from all regions. Harsh Goenka has been host to several art exhibitions in Mumbai for a decade and continues to support and encourage young artists.
He is a member of the National Art Advisory Committee for the National Gallery of Modern Art and a member of the Council of the National Culture Fund, Ministry of Culture.
Goenka has keen interest in cricket, which is India's most popular sport. He promotes the CEAT Cricket Ratings for International and Domestic cricket which is a rating system that rewards outstanding cricketers around the world.
Family life
The Goenka family belongs to the Marwadi business community and hail from Rajasthan in north-western India. They have been settled in Kolkata for several generations. Harsh's great-grandfather, Sir Badridas Goenka, had been the first Indian Chairman of the Imperial Bank of India. His son (Harsh's grandfather) Keshav Prased Goenka died relatively young.
Harsh's father, Rama Prasad Goenka, was an very successful businessman and founder of the RPG Group. His business interests spanning the music industry, automobile types, power transmission and plantation estates. In 2010, that empire was divided between Harsh and his only brother, Sanjiv.
Harsh Goenka lives in Mumbai. He is married to Mala and they have two children, a son named Anant and a daughter named Vasundhara who is married to Apoorva Patni of the Patni business family.