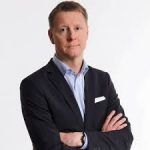 Long Business Description
Hans Vestberg (born 23 June 1965) is a Swedish businessman and the current CEO of telecommunications company Ericsson.
Vestberg holds a Bachelor's degree in Business Administration from Uppsala University.
Vestberg has worked for Ericsson in China, Brazil, Mexico and the US. He is a founding member of the Broadband Commission for Digital Development, where he chairs the task group on the post-2015 development agenda.
Education and career:
He received a Business Administration degree from the Uppsala University, Sweden, in 1991, Vestberg got employed at Ericsson Cables  in his hometown Hudiksvall. Since then he has had different management positions for Ericsson in China, Sweden, Chile and Brazil.
During the years from 1998 to 2000 Vestberg was CFO for Ericsson in Brazil and 2000-2002 he was CFO for Ericsson in North America and controller for North and South America. During 2002-2003 he was President for Ericsson in Mexico.
He also served as Chief Financial Officer for Ericsson from 2007 to 2009.
On 1 January 2010, he became CEO for Ericsson, replacing Carl-Henric Svanberg.
Personal life:
Vestberg is the chairman of the Swedish Handball Association. He also is the trainer of IFK Stocksund P02, a handball team in Stockholm.