As CEO of Greenply Industries Ltd., Shobhan Mittal directs India's largest interior infrastructure company. The New Delhi-headquartered firm claims nearly one-third of the total market share of plywood and medium density fibreboard products nationwide. Maintaining nearly 50 branch locations across the country, the firm is on a strong growth trajectory and has achieved significant revenue and profitability increases. Shobhan Mittal oversees a full range of human resources and IT operations, and holds a leadership role with the engineered panels division.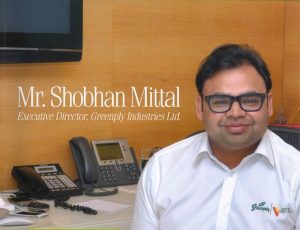 Mr. Shobhan Mittal's focus is on the medium-density fiberboard (MDF) and plywood businesses, which he views as offering excellent growth potential. As a result, he separated the decorative business, which includes laminates, from MDF and fibreboard operations.
Mr. Mittal's firm has a commitment to the communities it serves. It supports a number of local environmental projects and promotes overall eco-awareness. Greenply Industries also operates the Udayan Shalini Fellowship Programme, which provides dedicated assistance to girls in underserved rural areas of the country. Another forward-facing initiative is the Rural Mother and Child Health and Hygiene Programme. Shobhan Mittal enjoys activities such as tennis and squash in his free time.