Nestled between the beautiful Himalayas, the small Himachal hamlet of Banjni is known for its slow-paced life, economic and infrastructural hardships and lack of employment opportunities. Not anymore!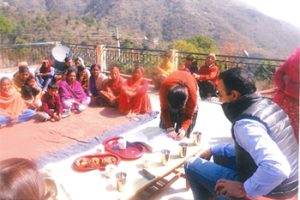 Banjni today is a living example of how empowering women can bring about a remarkable transformation in the fortunes of a society. And the change was brought in after the women of the village came together to establish a self-help cooperative society to unleash their collective entrepreneurial capacity, augment their incomes and raise their standards of living.
The transformation came under the guidance of Sanjeev Nanda, who realized that this pristine habitat was virtually untouched by the development happening around them. His efforts to script a new story for this remote village helped mobilize and motivate the women, to utilize their creative skills to obtain business benefits by recognizing the benefits of a collective economic endeavor.
The small village was inhabited by just 41 families. Amongst a total population of 190 people, there were 99 males and 91 females as per population census 2011. Not only was economic hardship a way of life, there were hardly any employment opportunities and most people had to migrate to nearby towns in search of work. Modern modes of transport were virtually non-existent here and children travelled for hours on foot to reach nearest schools.
A socially-conscious individual who strongly believes that young Indians need to take the lead in helping the benefits of growth and development trickle down to the grassroots, Sanjeev Nanda introduced a new idea to the populace of this small settlement . He mobilized the women of the village to develop a self-help entrepreneurial group along with registering a co-operative society. This turned out to be a landmark step in the lives of the village women.
The women of Banjni gained adequate support from a local lawyer, M Thakur, as he acquainted them with the functioning and procedures of forming a co-operative society. He also lent complete support in helping the women review the documentation of the memorandum of their registration. Upon completion of the legal formalities, the committee members were provided with their license. The Mahila Ekta Group then conducted research on product development.
Himachal, the beautiful Himalayan state had banned plastic bags in order to protect their fragile environment. Thus, the Mahila Ekta Group used innovative means to prepare paper/cloth bags as an alternative and successfully sold them to traders in Dharmpur.
"The Mahila Ekta Group completely revolutionized the lives of women. It brought together their scattered acumen and energies towards a larger business goal. Realizing that environmental concerns had raised the demand for eco-friendly bags in the state, the women decided to take this up as their business idea. They established a mini home-based industry of paper and cloth bags in the village, and started selling to nearby markets. Slowly as their business improved, and demand increased, the women started earning good incomes from this endeavor," said Sanjeev Nanda.
Realizing that starting such a venture will need a lot of initial thrust and support, Sanjeev provided all logistic and material support to the group till it became self sufficient.
In a bid to inspire the women of the village, in 2014, Sanjeev and his wife, Medha Nanda, organized a visit of the self-help group members to Himachal Pradesh's famous Bhuira Jam factory, where the members of Mahila Ekta Group had an inspiring interaction with Bhuira Jams founder, Linnet Mushran, a treasure trove of knowledge on entrepreneurship and self-help concept. The legendary lady also offered some useful tips to the women for a profitable business.
The remote village had other concerns too. Owing to the absence of a proper road, a traditional school bus service was not available in Banjni whose children travelled to Chamian School daily on foot.
"As part of our regular trips to the village to help the Group, we noticed that in absence of transportation or a bus service, the village children had to walk long distances to and fro from school every day. We organized two jeeps to transport children to school and this small intervention has completely changed their lives. They save a lot of time and energy every day that they now spend on studies and extra-curricular activities. An unlikely outcome of this step was the boost it gave to social inclusion indirectly when kids from different castes started travelling together and develop friendly relations for the first time," added Sanjeev Nanda.