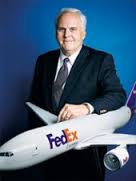 Long Business Description
Frederick Wallace "Fred" Smith (born August 11, 1944), is the founder, chairman, president, and CEO of FedEx, originally known as Federal Express.The company is headquartered in Memphis, Tennessee.
Business career:
In 1970, Smith purchased the controlling interest in an aircraft maintenance company, Ark Aviation Sales, and by 1971 turned its focus to trading used jets. On June 18, 1971, Smith founded Federal Express with his $4 million inheritance (approximately $23 million in 2013 dollars), and raised $91 million (approximately $525 million in 2013 dollars) in venture capital. In 1973, the company began offering service to 25 cities, and it began with small packages and documents and a fleet of 14 Falcon 20 (DA-20) jets. His focus was on developing an integrated air-ground system, which had never been done before. Smith developed FedEx on the business idea of a shipment version of a bank clearing house where one bank clearing house was located in the middle of the representative banks and all their representatives would be sent to the central location to exchange materials.
In the early days of FedEx, Smith had to go to great lengths to keep the company afloat. In one instance, he took the company's last $5,000 to Las Vegas and won $27,000 gambling on blackjack to cover the company's $24,000 fuel bill.
Smith has served on the boards of several large public companies, the St. Jude Children's Research Hospital and Mayo Foundation boards. He was formerly chairman of the Board of Governors for the International Air Transport Association and the U.S. Air Transport Association. Smith is chair of the Business Roundtable's Security Task Force, and a member of the Business Council and the Cato Institute. He served as chairman of the U.S.-China Business Council and is the current chairman of the French-American Business Council. In addition, Smith was named 2006 Person of the Year by the French-American Chamber of Commerce. He is a member of the Aviation Hall of Fame. Smith was approached by Senator Bob Dole, who asked Smith for support in opening corporate doors for a new World War II memorial.Smith was appointed to co-chairman of the U.S. World War II Memorial Project. Smith was named as Chief Executive magazine's 2004 "CEO of the Year".
In addition to FedEx, Smith is also a co-owner of the Washington Redskins NFL Team. His son, Arthur Smith, who played football at the University of North Carolina, is an Offensive Line/Tight End Assistant Coach for the Tennessee Titans. This partnership resulted in FedEx sponsorship of the Joe Gibbs NASCAR racing team. Smith also owns or co-owns several entertainment companies, including Dream Image Productions and Alcon Films (producers of the Warner Bros. film Insomnia starring Al Pacino and Robin Williams).
In 2000, Smith made an appearance as himself in the Tom Hanks movie Cast Away, when Tom's character is welcomed back, which was filmed on location at FedEx's home facilities in Memphis, Tennessee.
A DKE Fraternity Brother of George W. Bush while at Yale, after Bush's 2000 election, there was some speculation that Smith might be appointed to the Bush Cabinet as Defense Secretary. While Smith was Bush's first choice for the position, he declined for medical reasons — Donald Rumsfeld was named instead. Although Smith was friends with both 2004 major candidates, John Kerry and George W. Bush, Smith chose to endorse Bush's re-election in 2004. When Bush decided to replace Rumsfeld, Smith was offered the position again, but he declined in order to spend time with his terminally ill daughter.
Smith was a supporter of Senator John McCain's 2008 Presidential bid, and had been named McCain's National Co-Chairman of his campaign committee. Some had speculated that Smith might have a role as an economic advisor in a theoretical McCain administration.
Smith was inducted into the Junior Achievement U.S. Business Hall of Fame in 1998 and to the SMEI Sales & Marketing Hall of Fame in 2000. His other awards include "CEO of the Year 2004" by Chief Executive Magazine and the 2008 Kellogg Award for Distinguished Leadership, presented by the Kellogg School of Management on May 29, 2008. He was also awarded the 2008 Bower Award for Business Leadership from The Franklin Institute in Philadelphia, Pennsylvania.[18] He is the 2011 recipient of the Tony Jannus Award for distinguished contributions to commercial aviation.
While CEO of FedEx in 2008, Frederick W. Smith earned a total compensation of $10,434,589, which included a base salary of $1,430,466, a cash bonus of $2,705,000, stocks granted of $0, and options granted of $5,461,575. In June 2009, Smith expressed interest in purchasing the controlling share (60%) of the St. Louis Rams from Chip Rosenbloom and Lucia Rodriguez. In 2009, Frederick W. Smith earned a total compensation of $7,740,658, which included a base salary of $1,355,028, a cash bonus of $0, stocks granted of $0, options granted of $5,079,191, and other compensation totaling $1,306,439.
In March 2014, Fortune Magazine ranked him 26th among the list of "World's 50 Greatest Leaders"
Smith currently resides in Memphis.