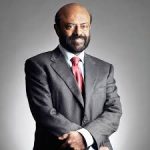 Long Business Description
Shiv Nadar (born 14 July 1945) is an Indian industrialist and philanthropist. He is the founder and chairman of HCL and the Shiv Nadar Foundation. As of 2015, his personal wealth is estimated at $13.7 Billion. Nadar founded HCL in the mid-1970s and transformed the IT hardware company into an IT Enterprise over the next three decades by constantly reinventing his company's focus. In 2008, Nadar was awarded Padma Bhushan for his efforts in the IT industry.Nadar, nicknamed by friends as Magus (Old Persian for Wizard), since mid-1990s has focused his efforts in developing the educational system of India through the Shiv Nadar Foundation. Shiv Nadar is the brother of famous tamil novelist Ramanichandran.
Early life and education:
Nadar was born in 1945 in Moolaipozhi village, about 10 kilometres (6.2 mi) from Tiruchendur in Thoothukudi district (present ), Tamil Nadu, India. His parents were Sivasubramaniya Nadar and Vamasundari Devi.Nadar's mother, Vamasundari Devi, is the sister of S. P. Adithanar, founder of Dina Thanthi newspaper.
Nadar studied at Town Higher Secondary School, Kumbakonam. He got admission in the first form (Sixth Standard) on 29 June 1955 and continued his education in Town High School till 1 June 1957. Nadar received a pre-University degree in The American College, Madurai and degree in Electrical And Electronics Engineering from PSG College of Technology, Coimbatore.
Career:
Nadar began his career at Walchand group's Cooper Engineering in Pune in 1967. he soon gave it up to begin his own venture, in partnerships with several friends and colleagues. These partners were Ajai Chowdhry (Ex-Chairman, HCL Infosystems), Arjun Malhotra (CEO and Chairman, Headstrong), Subhash Arora, Yogesh Vaidya, S. Raman, Mahendra Pratap and DS Puri,
The initial enterprise which Nadar and his partners began was Microcomp, a company which focused on selling teledigital calculators in the Indian market. HCL was founded later, in 1976, with an investment of Rs. 187,000.
In 1980, HCL ventured into the international market with the opening of Far East Computers in Singapore to sell IT hardware. The venture reported Rs 1 million revenue in the first year and continued to address the Singapore operations.[14] Nadar remained the largest shareholder without retaining any management control.
Awards and accolades:
In 2008, Government of India awarded Nadar with Padma Bhushan, the third highest civilian award, for his contribution to IT industry.
In 2007, Madras University awarded him honorary doctorate degree (D Sc) for his contributions in promoting software technology. Nadar was also recognised as E&Y Entrepreneur of the Year 2007 (Services).
In 1995 he became the Dataquest IT Man of the year. In 2005 he was bestowed with CNBC Business Excellence Award. In 2006 received an Honorary Fellowship of All India Management Association-AIMA. In 2009 he was counted amongst Forbes 48 Heroes of Philanthropy in Asia Pacific. In 2010 received Dataquest Lifetime Achievement Award.