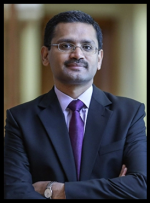 Long Business Description
Rajesh Gopinathan was born in 1971. He is the CEO and Managing Director of Tata Consultancy Services (TCS), a worldwide IT administrations, counseling and business arrangements association. Rajesh is probably the most youthful chief in the Tata Group. He was raised to the part of Chief Executive in February 2017 subsequent to filling in as the Chief Financial Officer since 2013.
Rajesh Gopinathan was born into the world in Thrissur, Kerala. He lived in Lucknow till his twelfth class and concentrated in St. Mary's Convent Inter College, RDSO branch. His dad used to work for the Research Design and Standards Organization (RDSO) wing of the Indian Railways. Rajesh graduated in 1994 with an Electrical and Electronics Engineering certificate from the Regional Engineering College, Tiruchirappalli (presently National Institute of Technology, Tiruchirappalli).
In 1996, he got a post-graduate confirmation in Management (PGDM, equivalent to a MBA) from Indian Institute of Management Ahmedabad. He also won many awards. In 2021 - he win India's Best CEO in the classification of super huge organizations by Business Today (India). He joined the Tata Strategic Management Group in 1996, where he worked at numerous tasks with Tata organizations.