Thomas Schumacher was born in 1958 and studied theatre at UCLA. In November 2012, Schumacher married his longtime partner, interior designer Matthew White.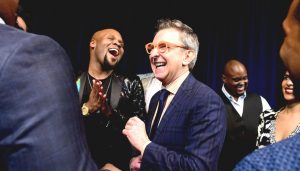 Thomas Schumacher is a theatrical producer, currently president of Disney Theatrical Group, the theatrical production arm of The Walt Disney Company, culminated in a version of the tune with lyrics rewritten by Broadway regular and former DTP staffer Rick Elice ("Jersey Boys," "Peter and the Starcatcher"), and performed by four genies, an Aladdin, a Mary Poppins and a dozen alumni of TDF's Open Doors program. Opening lyric: "Tom has shown me the world…"
Since 1988, Thomas Schumacher has worked with The Walt Disney Company setting new standards of excellence in film, television and theatre. Currently, he serves as President of Disney Theatrical Group where he oversees the development, creation and execution of all Disney live entertainment around the globe including Broadway, touring and licensed productions, as well as Disney on Ice and Disney Live! Shows produced in partnership with Feld Entertainment. His Broadway, West End, touring and international production credits include Beauty and the Beast, King David, The Lion King, Der Glockner von Notre Dame, Elton John and Tim Rice's Aida, On the Record, High School Musical, TARZAN, Mary Poppins and The Little Mermaid along with several new projects currently in development. Disney Theatrical Group has an unprecedented global reach with over 15 Disney produced and licensed productions performing daily around the world. Intensely passionate about theatre from an early age, Schumacher recognized the impact that theatre has on the lives of young people and developed a licensing program with Music Theatre International to make select Disney theatrical titles available for performance in schools and amateur theatres throughout the world.
Thomas Schumacher career at Disney began in Walt Disney Feature Animation producing the animated classic The Rescuers Down Under. He was ultimately named President and oversaw some 21 animated features including The Lion King, The Nightmare before Christmas, Pocahontas, The Hunchback of Notre Dame, Mulan, Tarzan, and Lilo & Stitch, as well as working closely with Pixar on their first five films. Prior to joining Disney, he was associate director of the 1987 Los Angeles Festival of Arts, presenting the American premiere of Cirque du Soleil and the English-language premiere of Peter Brook's The Mahabharata. Previously, he spent five years on staff at the Mark Taper Forum, served as a line producer on the 1984 Olympic Arts Festival, and served as assistant general manager of the Los Angeles Ballet. Mr. Schumacher is the author of the book how does the Show Go On? An Introduction to the Theater as well as a member of the Board of Trustees for Broadway Cares/Equity Fights AIDS, the Tony Administration Committee and the Advisory Committee of the American Theatre Wing. He is mentor for the TDF Open Doors program and serves as an adjunct professor at Columbia University.