Cloud Computing happens to be more than a buzzword – it is more like a way to the future. Silicon Valley giants like Amazon, Microsoft, IBM, etc. rapidly broaden the scope for technological advancements, while smaller players like Facebook and Whatsapp take notes accordingly. Cloud-based companies like Byjus, Netflix, Engineer.ai, remain wholly reliant on industry standards, while themselves offering unique services to the consumers. Industry pros that engineer AI, develop apps, create websites, etc., all look to this axis of tech companies, who basically dictate the course of the world moving forward.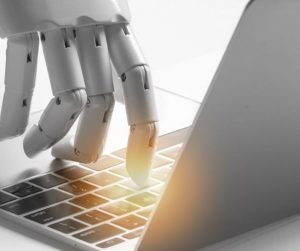 So what about cloud services then? Well, cloud computing is indispensable – the ability to process, and store data off-site has elevated the medium of computing and technology in general, through the roof! One might avail of the benefits of a higher spec device, simply through remote access. Cloud services, however, are not for everyone – sure, you can develop apps, and engineer AI, but rarely can you ever own cloud-based service. The cost of operations for Cloud Computing is simply staggering. This has led to the accumulation of the available cloud, within the hands of a few usual suspects – e.g. Amazon, Microsoft, Google, IBM, and the like.
To better understand why cloud computing is changing through Hybrid Cloud Computing, we have to understand why these handfuls of players enjoy this privilege – and why that is about to change.
The Epoch Of Cloud Computing
Believe it or not, cloud-based services have been a thing since the 1960s, when IBM emerged as one of the biggest proponents of this tech. By the 1970s, cloud-based services had become available to large companies, through a progenitor service, called Remote Job Entry (RJE). By the 1990s, various companies tried dipping their fingers in this potentially breakthrough of a field, which was still largely incomprehensible for companies, and users alike. Few remember General Magic, one of the big emerging tech giants of the decade, who sought to claim cloud computing as a benchmark.
The market remained ho-hum, until 2006 when Amazon created its Amazon Web Services (AWS) flagship, and the Elastic Compute Cloud (EC2) platform. This was the same time that Google shifted the focus of its search engine, from basically manually indexing sites, to engineer AI-powered algorithms. Also, Microsoft releasing Azure in 2010 and IBM's SmartCloud in 2011, rounded off the apex powers. These primordial versions of their existing services were a far cry from the SaaS (Software as a Service), PaaS (Platform as a Service), and IaaS (Infrastructure as a Service) modules they would go on to become later in their lives.
Since the early 2010s, establishment monopoly has remained unchanged until now. They employ variations of the 'pay-as-you-go' model. Sachin Dev Duggal, CEO of Builder.ai(also engineer.ai), has remarked on the rise of cloud computing and the peripheral businesses it is helping boom (like edutainment, for example). India's biggest learning app, Byjus, at $5.4 billion USD, is the world's biggest Edutech platform, is still reliant on the whims of industry big wigs. This has caused major conglomerates, and small players alike, being relinquished of their money through unexpected operating costs, at the hands of the 'Cloud Axis of Power'.
Hybrid Cloud Computing
To alleviate the need for expensive off-site Cloud Computing, Hybrid Clouds are rapidly becoming the norm. It is basically a composite of public clouds (AWS, Azure, etc.) and an in house server. These are operationally different but are linked together, offering the benefits of various cloud-based models.
The thing is, major cloud companies also happen to be existing tech giants of today. Their monopolization of the model leaves little in terms of competition. They fix prices as they see fit. This has curtailed the growth of Cloud Computing by 26% per quarter, due to pricing malpractices alone. Additionally, companies like Google have come under the radar for security breaches, and poor handling of user data – a lot of enterprises have no choice, but to store critical data off-site, while being in constant stress it being mishandled.
Hybrid Cloud Computing allows small to medium size companies that aggregate information, engineer AI, and the like, to remain cognizant of their personal data while availing public services that they would otherwise be enjoying – all in periodic bursts (which has led to the term being called Burst Computing).
Joint Enterprise Defence Infrastructure (JEDI)
A United States Defence contract worth $10 billion given the aforementioned monopolists a chance to reclaim the status quo, through JEDI – which included Microsoft, Amazon, Google, Oracle, IBM, and Rean Cloud (a subsidiary of Hitachi Systems).
This would've been the final nail to cement the dominance of the tech giants in the field of Cloud Computing, if not for Jeff Bezos's (owner of Amazon, the largest cloud-based service provider in the world) feud with President Donald J Trump, leading up to the deal. You see, Jeff Bezos owns The Washington Post, which Is routinely critical of President Donald J Trump. Weeks before the deal was due to be signed, Amazon dropped out, leaving the military short of the largest market sharing platform, in August 2019. The deal went to Microsoft in October of the same year.
Suffice to say, the monopoly looks shaken (for now), but not over completely. The rise in Hybrid Cloud Computing is revolutionizing the market. It is only a matter of time, that cloud services would become a feasible necessity, thus letting startups (like Byju Raveendran's BYJU's, Sachin Dev Duggal's Engineer.ai platform, and Netflix) to remain afloat and running while becoming independent through their own volition.