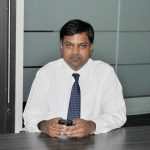 Long Business Description
Mr. Sunil Khairnar serves as a Director of Topworth Group of Companies. Mr. Khairnar is a vastly experienced professional in the food and agribusiness sector in India. He has keen interest and is deeply involved in integration of small and marginal farmers into market systems and also works towards optimum utilization of IT and Internet Applications in Agriculture and Rural Development. He is on the boards of a large livelihood based Micro Finance organization based in Hyderabad and a company setting up an Ultra Mega Food Park in Karnataka.
Mr. Khairnar served as a Director of National Bulk Handling Corporation Ltd. He was the founder director in an Indo-Australian joint venture for bio diesel from jatropha called Mission Biofuels India Pvt. Ltd. His knowledge and expertise stands him in good stead to drive the Corporate Social Responsibility (CSR) activities and Public Affairs for the Financial Technologies group. Mr. Khairnar's mandate includes conceptualizing and implementing CSR projects. Prior to Financial Technologies, he worked in the food and agribusiness sector in India for more than 14 years. After working in various commercial functions with the Godrej group and Cargill Inc. for 7 years, he conceptualized and set up Indian Agribusiness Systems Pvt. Ltd. He founded Indian Society of Agribusiness Professionals (www.isapindia.org) which works in agriculture and rural development in 18 Indian states.
Mr. Khairnar has been on various committees connected with agriculture at the Planning Commission, Prasar Bharti and various Govt. Departments. He contributes on the advisory boards of development journals and an agricultural university. He was elected to the Ashoka Fellowship of the Ashoka Foundation in the USA in 2001. He is the Founder Member of Rural Marketing Association of India. Mr. Khairnar is a graduate in Agriculture Engineering and a Post Graduate in Management from IIM, Ahmedabad.