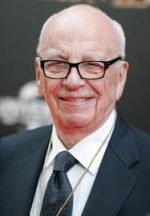 Long Business Description
Keith Rupert Murdoch (born 11 March 1931) is an Australian-born American media proprietor. His father, Keith Arthur Murdoch, had been a reporter and editor and a senior executive of the Herald and Weekly Times newspaper publishing company covering all Australian states except New South Wales. After his father's death in 1952 Keith Rupert Murdoch declined to join his late father's registered public company and created his own private company, News Limited. Murdoch thus had full control as Chairman and CEO of Global Media Holding Company News Corporation, now the world's second-largest media conglomerate, and its successors, News Corp and 21st Century Fox, after the conglomerate split on 28 June 2013.
In the 1950s and 1960s, Murdoch acquired a number of newspapers in Australia and New Zealand, before expanding into the United Kingdom in 1969, taking over the News of the World, followed closely by The Sun. Murdoch moved to New York City in 1974, to expand into the U.S. market; however, he retained interests in Australia and Britain. In 1981, Murdoch bought The Times, his first British broadsheet, and became a naturalized U.S. citizen in 1985 to satisfy the legal requirement for U.S. television ownership.
In 1986, keen to adopt newer electronic publishing technologies, Murdoch consolidated his UK printing operations in Wapping, causing bitter industrial disputes. Murdoch's News Corporation acquired Twentieth Century Fox (1985), HarperCollins (1989), and The Wall Street Journal (2007). Murdoch formed the British broadcaster BSkyB in 1990, and during the 1990s expanded into Asian networks and South American television. By 2000, Murdoch's News Corporation owned over 800 companies in more than 50 countries, with a net worth of over $5 billion.
In July 2011, Murdoch faced allegations that his companies, including the News of the World, owned by News Corporation, had been regularly hacking the phones of celebrities, royalty, and public citizens. Murdoch faces police and government investigations into bribery and corruption by the British government and FBI investigations in the U.S. On 21 July 2012, Murdoch resigned as a director of News International. On 1 July 2015, Murdoch left his post as CEO of 21st Century Fox. Murdoch and his family own both 21st Century Fox and News Corp through the Murdoch Family Trust.
Early life:
Murdoch was born Keith Rupert Murdoch on 11 March 1931 in Melbourne, Australia to Sir Keith Murdoch (1885–1952) and Elisabeth Joy Greene (later Dame Elisabeth Murdoch) (1909–2012), daughter of Rupert Greene. He is of English, Irish, and Scottish ancestry. Murdoch's parents were also born in Melbourne. Keith Murdoch was a war correspondent and later a regional newspaper magnate owning two newspapers in Adelaide, South Australia, and a radio station in a faraway mining town. Later in life, Keith Rupert chose to use Rupert, the first name of his maternal grandfather.
Keith Murdoch the elder asked to meet with his future wife after seeing her debutante photograph in one of his own newspapers and they married in 1928, when she was aged 19 and he was 23 years older. In addition to Rupert, the couple had three daughters: Janet Calvert-Jones, Anne Kantor and Helen Handbury (1929–2004). Murdoch attended Geelong Grammar School, where he was co-editor of the school's official journal The Corian and editor of the student journal If Revived.He took his school's cricket team to the National Junior Finals. He worked part-time at the Melbourne Herald and was groomed by his father to take over the family business. Murdoch read Philosophy, Politics and Economics at Worcester College, Oxford in England, where he supported the Labour Party, stood for Secretary of the Labour Club and managed Oxford Student Publications Limited, the publishing house of Cherwell. After her husband's death from cancer in 1952, Elisabeth Murdoch did charity work, as life governor of the Royal Women's Hospital in Melbourne and established the Murdoch Childrens Research Institute. At the age of 102 (in 2011), she had 74 descendants. Murdoch completed an MA before working as a sub-editor with the Daily Express for two years.