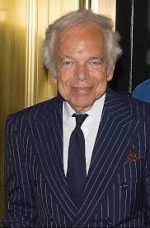 Long Business Description
Ralph Lauren ( born ; October 1, 1939) is an American fashion designer, philanthropist, and business executive, best known for the Ralph Lauren Corporation clothing company, a global multi-billion-dollar enterprise. He has also become well known for his collection of rare automobiles, some of which have been displayed in museum exhibits. Lauren stepped down as Chief Executive Officer of the company in September 2015 but remains its Executive Chairman and Chief Creative Officer. As of January 2015, Forbes estimates his wealth at $8 billion, which makes Ralph Lauren the 155th richest person in the world.
Career:
He went to Baruch College where he studied business, although he dropped out after two years. From 1962 to 1964 he served in the United States Army and left to work briefly for Brooks Brothers as a sales assistant before leaving to become a salesman for a tie company. In 1966, when he was 26, he was inspired to design a wide, European-style necktie he had seen Douglas Fairbanks, Jr. wearing, but the idea was rejected by the company for which he worked as not being commercially viable. He left to establish his own company, working out of a drawer in the Empire State Building, taking rags and turning them into ties. He sold the ties to small shops in New York, with a major turning point when he was approached by Neiman Marcus, who bought 1,200.
In 1967, with the financial backing of Manhattan clothing manufacturer Norman Hilton, Lauren opened a necktie store where he also sold ties of his own design, under the label "Polo". He later received the rights to use the trademark Polo from Brooks Brothers; however, Brooks Brothers managed to retain its rights to the iconic "original polo button-down collar" shirt (still produced today), in spite of Lauren's Polo trademark. In 1971, he expanded his line and opened a Polo boutique on Rodeo Drive in Beverly Hills, California.
In 1970, Ralph Lauren won the Coty Award for his menswear line. Around that same time he released a line of women's suits that were tailored in a classic men's style. This was the first time the Polo emblem was seen, displayed on the cuff of the suit. Ralph Lauren released Polo's famous short sleeve pique shirt with the Polo logo in 1972 and unveiled his first Ralph Lauren collection for women.It came out in 24 colors and soon became a classic.He also gained recognition for his design after he was contracted to provide clothing styles for the movie The Great Gatsby as well as for Diane Keaton's title character in the 1977 feature film Annie Hall.
In 1984, he transformed the Gertrude Rhinelander Waldo House, former home of the photographer Edgar de Evia and Robert Denning, into the flagship store for Polo Ralph Lauren. This same year de Evia photographed the cover feature story for House & Garden on the Lauren home Round Hill in Jamaica,which had formerly been the home of Babe and Bill Paley.On June 11, 1997, Ralph Lauren Corporation became a public company, traded on the New York Stock Exchange under the symbol RL.
By 2007 Ralph Lauren had over 35 boutiques in the United States; 23 locations carried the Ralph Lauren Purple Label, including Atlanta, Beverly Hills, Boston, Charlotte, Washington, D.C., Chicago, Costa Mesa, Dallas, Denver, Honolulu, Houston, Las Vegas, Manhasset, New York, Palm Beach, Palo Alto, Philadelphia, Phoenix, San Diego, Short Hills, Montreal and Troy. The Financial Times reported in January 2010 that the firm had revenues of $5 billion for fiscal year 2009.
On September 29, 2015, Ralph Lauren announced that he would be stepping down as Chief Executive, to be replaced by Stefan Larsson, the President of Gap's Old Navy chain.
Awards and honors:
In 2010, Lauren was declared Chevalier de la Legion d'honneur by French President Nicolas Sarkozy in Paris.
In 2014, Lauren was awarded the James Smithson Bicentennial Medal.