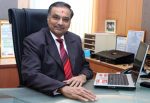 Long Business Description
Rajnikant Shamalji Ajmera 'Rajnikant Ajmera' (born 3 March 1953) is an industrialist based in Mumbai. He currently heads the US$ 450 million worth Ajmera Group having interests in realty, construction and related businesses.
He was born to late Shamlaji Ajmera and has many siblings, who are partners in Ajmera group. Apart from Ajmera group he is also heads the Shree Percoated Steels Limited. He was elected as the President of CREDAI (Confederation of Real Estate Developers Association of India), the apex body of real estate developers across India in April 2007 and also has been the President of Maharashtra Chamber of Housing Industry (MCHI).
Ajmera group was also in news when they jointly with Bakeri group purchased Ahmedabad's prestigious Calico Mill's property at government auction for Rs. 350 crores in 2010.
He also heads his family's charitable trusts and is trustee in several trusts belonging to BAPS Swaminarayan Sampraday. He is diploma holder in civil engineering.