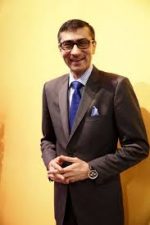 Long Business Description
Rajeev Suri ( born 1967) is the chief executive officer of Nokia. Before the current assignment in May 2014, he was the CEO of Nokia Solutions and Networks since 2009 and held various positions in Nokia since 1995. Suri became the CEO of Nokia when the sale of Nokia's phone division to Microsoft Mobile was completed. He has a Bachelor of Engineering from Manipal Institute of Technology and worked for multinational corporations in India and Nigeria, before joining Nokia.
Early life:
Rajeev Suri was born in New Delhi in 1967 to parents Yashpal and Asha. Suri's father was from the Punjab region but in 1958 his parents had moved from India to Kuwait, where his entrepreneur father had a car imports business and where Suri was raised until 1985. He spoke Hindi at home, went to Indian Community School, Kuwait and learned to read and write Arabic.
Suri studied Electronics and Communications Engineering in the Manipal Institute of Technology, India (class of 1989).
Career:
Before joining the Nokia group, Suri had worked for Calcom Electronics and ICL in India as well as for Churchgate Group in Nigeria.
In 1995, Suri joined the Nokia group. Suri was instrumental in driving the Nokia Siemens Networks' Services business unit's revenue in the company to grow from less than a third to about half.Suri motivated the company to create a new Services hub in India. Before heading Services, Suri headed the Asia Pacific operations from April 2007 until November 2007. From 1995 to March 2007, Suri worked on a number of assignments at Nokia Networks in Business Development, Marketing, Sales, Strategy from India, Finland, the United Kingdom and Singapore.
Suri followed Simon Beresford-Wylie as the CEO of NSN in October 2009 after Nokia Networks and Siemens Networks had been merged. He is considered a 'turnaround specialist' in the global tech circles.
On November 23, 2011, Suri announced that the company planned to eliminate 17,000 jobs by the end of 2013 to enable NSN to refocus on mobile broadband equipment, the fastest-growing segment of the market. The reductions would slash the company's work force by 23 percent from 74,000. The cuts followed NSN's $1.2 billion purchase of Motorola's mobile network equipment business in July 2010, which added staff; and would help the company trim annual operating expenses by $1.35 billion by the end of 2013.
On 29 April 2014, Suri was appointed as the CEO of Nokia. This was after Nokia had bought back full control of NSN and sold Nokia's phone division to Microsoft Mobile.
Suri is one of those rare top corporate executives who have achieved heights without pursuing any MBA/PG degree.
Personal life:
Suri is based in Espoo, Finland, Nokia headquarters. His wife Nina Alag Suri is the founder and CEO of the executive search business Nastrac Group. His younger son Anish (18 years) is based in Singapore but now studies business at The University of Edinburgh. His elder son Ankit (22 years) is studying music composition in Boston at Berklee College of Music. He has lived in 7 countries including India, Kuwait, Finland, UK, Nigeria, Germany and Singapore.
Suri is a fitness enthusiast. He is an avid music lover.