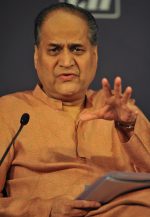 Long Business Description
Rahul Bajaj was born on 10th June 1938 at Bengal Residency, British India. He is an Indian businessman, industrialist, politician, Forbes billionaire and a member of the Indian Parliament. In 2010, Forbes had estimated his net worth to be US $ 1.1 Billion making him one of India's Top 50 richest persons. He is the Chairman of Bajaj Auto, a leading Indian Automobile Manufacturer.
Family:
Rahul Bajaj is a son of Rajasthani Businessman Jamnalal Bajaj who started Bajaj Auto in 1945. He has one brother, Shishir Bajaj, with whom there was a recent business settlement ending the family dispute. He has 3 cousins, Shekhar, Madhur and Niraj together with whom he controls the Bajaj Group of companies. He is married to Ruparani and has two sons Rajiv & Sanjiv who are involved in the management of his companies and a daughter, Sunaina Kejriwal who is married to Manish Kejriwal who heads Temasek India.
Growing up:
Rahul Bajaj went to The Cathedral and John Connon School. He graduated from St. Stephen's College in Delhi in 1958 with an honors degree in economics. He underwent on-the-job training for 4 years at two of the group companies. During that time, he also earned a law degree in Bombay. He is also an alumnus of the prestigious Harvard Business School in USA.
Bajaj Auto:
The US$ 1.32 Billion worth Bajaj Auto is the main flagship company of the Bajaj Group which employs over 20,000 people with a turnover of over US $ 3.20 billion.
Today, with revenues of $1.5 billion and a market capitalization of $3 billion, the company sells nearly 2 million vehicles per year in India and other developing countries in Africa, Latin America, and Southeast Asia.
Constant changes in employee management and training led to reduced costs and improved quality. For example; it took 22,000 workers to produce 1 million vehicles in 2000, but only half of that number to make 1.8 million vehicles four years later.
In addition, Bajaj Auto has consistently invested in R&D which made the company capable to develop products desired by the customer at a low cost. This has been an important source of confidence for the future.
Awards:
For its performance, Bajaj Auto has received various awards including:
The 1977 Export Award from the Federation of Indian Chambers of Commerce and Industry (FICCI).
The 1985 Economic Times & Harvard Business School Association Award for Corporate Performance.
CII Award for Quality and Reliability in 1984 & 1988 and for Technology and Innovation in 1985
For 1994-95 Bajaj Auto received the Engineering Export Promotion Council's award for the highest exports of consumer durables nationally and the highest exports of engineering goods in the Western Region.
Bajaj Auto received Dalal Street Journal's Corporate Excellence Award for 1990 & 1995.