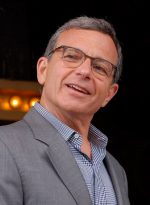 Long Business Description
Robert Alan "Bob" Iger (born February 10, 1951) is an American businessman who has been the Chairman and Chief Executive Officer of The Walt Disney Company since 2005. Iger oversaw the acquisitions of Pixar Animation Studios in 2006, Marvel Entertainment in 2009, and Lucasfilm in 2012.
Early life:
Iger was born to a Jewish family in New York City, New York, the son of Mimi and Arthur L. Iger. Iger's father was a World War II veteran who served as the Executive Vice President and General Manager of the Greenvale Marketing Corporation, and was also a Professor of Advertising and Public Relations. His mother worked at Boardman Junior High School in Oceanside.
Iger was raised in the Long Island town of Oceanside, New York, where he attended the Fulton Avenue School and later graduated from high school. Iger completed his undergraduate studies at Ithaca College where he graduated Magna Cum Laude with a Bachelor of Science degree in Television & Radio from Ithaca's Roy H. Park School of Communications. Iger began his career as a weatherman for a local television station and joined the American Broadcasting Company in 1974. Iger was instrumental in convincing ABC to pick up David Lynch's offbeat yet influential Twin Peaks.
In 1989, Iger was named to head up ABC Entertainment. He served as President of the ABC Network Television Group from January 1993 to 1994, while being appointed as Capital Cities/ABC Senior Vice President in March 1993 and Executive Vice President in July 1993. In 1994, Iger was named President and Chief Operating Officer of ABC's corporate parent, Capital Cities/ABC. In 1996, The Walt Disney Company bought Capital Cities/ABC and renamed it ABC, Inc., where Iger remained President until 1999.
The Walt Disney Company
On February 25, 1999, Disney named Iger the President of Walt Disney International, the business unit that oversees Disney's international operations, as well as Chairman of the ABC Group. Disney called the change a promotion for Iger; however, the company's insistence was initially viewed with skepticism, as some thought Iger was merely being removed from day-to-day authority at ABC, since ABC had been struggling.
Iger was named President of Disney in 2000, and later succeeded Michael Eisner as the CEO in 2005, after a successful effort by Roy E. Disney to shake up the management of the company.
Disney named Iger the President and Chief Operating Officer (CEO) on January 24, 2000, making him Disney's #2 executive under Chairman and CEO Michael Eisner. Disney had been without a separate president since Eisner assumed the role following the departure of Michael Ovitz in 1997, after sixteen months at Disney.
On March 13, 2005, Disney announced that Bob Iger would succeed Michael Eisner as CEO. On March 26, Iger reassigned Peter Murphy, Disney's Chief Strategic Officer, and pledged to disband the company's Strategic Planning division. Iger also vowed to restore much of the decision-making authority that the division had assumed to the company's individual business units.
Disney reconciled with former board members Roy E. Disney and Stanley Gold, who in July 2005 dropped their "Save Disney" campaign and agreed to work with Iger. In the process, Roy E. Disney was named a Director Emeritus and Consultant.
On January 24, 2006, Disney announced it would acquire Pixar for $7.4 billion in an all-stock transaction. The merger installed animator John Lasseter as Chief Creative Officer of the Disney/Pixar animation studios and Principal Creative Advisor for Walt Disney Imagineering, the division that designs theme park attractions. This acquisition made Steve Jobs Disney's top shareholder, with seven percent of outstanding shares, and gave him a new seat on Disney's Board of Directors. In the same year, Iger also re-acquired the rights to Walt Disney's first star, Oswald the Lucky Rabbit, from NBCUniversal by releasing sportscaster Al Michaels from ABC Sports to NBC Sports.
In August 2009, Iger spearheaded negotiations that led Disney to acquire Marvel Entertainment and its associated assets for $4 billion. As of August 2014, Disney has recouped over $4 billion at the box office through the Marvel movies.
Roy E. Disney, who had been critical of Iger for his role as Eisner's deputy, issued this statement:
"Animation has always been the heart and soul of The Walt Disney Company, and it is wonderful to see Bob Iger and the company embraces that heritage by bringing the outstanding animation talent of the Pixar team back into the fold. This clearly solidifies The Walt Disney Company's position as the dominant leader in motion picture animation and we applaud and support Bob Iger's vision."