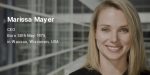 Long Business Description
Full Name       :           Marissa Ann Mayer
Born                :           30th- May - 1975
Zodiac Sign     :           Gemini
Height             :           173 CMS (5 Feet 8 Inches)
Birth Place      :           Wausau, Wisconsin
Country           :           USA
Education        :           Wausau West High School Wisconsin, Stanford University California
Occupation      :           CEO
Industry           :           Business
Net worth        :           $300 Million
Childhood
Marissa Mayer was born on May 30, 1975 at Wausau, Wisconsin. Her father was an environmental engineer and her mother was an art teacher. Her dream was to study at the Stanford University. She fulfilled her dream by graduating from Stanford University with a Bachelor of Science Degree in Symbolic Systems and a Masters in Science in Computer Science. She was an extremely intelligent student and specialized in artificial intelligence at her university. She graduated from Wausau West High School in 1993, where she was outstanding at both math and science.
At school she was selected to attend the National Youth Science Camp, and that too recommended by the Governor of Wisconsin itself. As she had graduated out of a prestigious university like Stanford and was an honor student, she received more than 20 high paying job offers.
Early Career :
But she ignored these high profiles and chose to join a start-up company called Google in 1999. She was only the 20th employee at the company, and was paid far lesser than her credentials as it was just a start-up company. She worked for 13 years at the company. Her contributions have made Google to go from being a small start-up company to become a global super power and the No.1 internet company in the world today.
At Google she worked in the roles of designer, product manager, engineer and executive. She was involved in bringing out the most important products that Google had to offer. She has been involved in almost all the major projects of Google including Google Search, Google Images, Google News, iGoogle, Gmail, Google Maps, etc. In 2009, just 10 years after joining the company, she was made Vice-President of Search Products and User Experience. She has played an important role in taking a start-up like Google and to make it a $30 billion company in 2010.
Career :
But she touched the greatest point in her career, when she joined rival company Yahoo as their CEO and President. The company was losing its search users day by day and it was in a situation where it would have to close out in another year or so. The share price was stagnant at $20 per share. The company was facing huge competition from Google and many companies like Microsoft were trying to buy it out.

As a CEO of Yahoo :
Yahoo was facing its worst period, but Mayer had the perfect plan to get it back to the top. She started creating interest in the employees, changed the whole management and made Yahoo focus on the single goal of creating new products. Within a month, the results were visible.
Career Highlights :
By the end of 2013, the share price of Yahoo has reached a record $40 per share, which no one financial expert could have expected a few months back. As of 2013, Yahoo is the company with the highest profit percentage among the Fortune 500 companies at nearly 75%. It has total revenues of $5 billion, out of which $4 billion are profits. Marissa Mayer has been paid $120 million for her five year term at Yahoo.
As of today, her net worth is in excess of $320 million. She has made it to the list of America's 50 Most Powerful Women in the World for six years in a row from 2008-2013. She has been named in the Time 100 in 2013, and is considered as one of the most powerful women in the world right now.
Awards :
2011 - Whitney American Art, Centennial Teaching, Forsyth
2009 - Glamour Women of the Year for the Visionary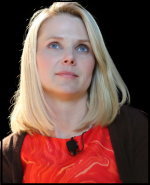 Long Business Description
Marissa Ann Mayer was born in 30th May, 1975 in Wausau, Wisconsin, the girl of Margaret Mayer, an art educator of Finnish descent, and Michael Mayer, a environment specialist who worked for water organizations. He is an American businesswomen and financial backer. She is a data innovation leader, and prime supporter of Sunshine Contact. Mayer previously filled in as the president and CEO of Yahoo!, a position she held from July 2012. It was reported in January 2017 that she would venture down from the organization's load up upon the offer of Yahoo's! Working business to Verizon Communications for $4.8 billion. She would not join the recently consolidated organization, presently called Verizon Media (in the past Oath), and declared her acquiescence on June 13, 2017. She is an alum of Stanford University and was a long-lasting chief, ease of use pioneer, and key representative for Google (worker #20).
Mayer wedded attorney and financial investor Zachary Bogue on 12th December, 2009. On the day Yahoo! reported her employing, Mayer uncovered that she was pregnant; she gave birth a child kid on 30th September, 2012. Although she asked child name ideas by means of social media, she in the end picked the name Macallister from a current list. On December 10, 2015, Mayer declared that she had brought forth indistinguishable twin girls,Marielle and Sylvana. Mayer is Lutheran, yet she has said—referring to Vince Lombardi's "Your God, your family and the Green Bay Packers"— that her needs are "God, family and Yahoo!, aside from I'm not that strict, so it's actually family and Yahoo!." She has a youthful sibling. She would later depict herself as having been "agonizingly bashful" as a kid and teen. She "never had less than one after-school action each day," partaking in artful dance, ice-skating, piano, swimming, discussion, and Brownies. During center school and secondary school, she took piano and artful dance exercises, the last of which showed her "analysis and order, balance, and certainty". At an early age, she showed an interest in math and science.
Subsequent to moving on from Stanford, Mayer got 14 occupation job offers, including a showing position at Carnegie Mellon University and a counseling position at McKinsey and Company. She joined Google in 1999 as worker number 20. On 16th July, 2012, Mayer was appointed president and CEO of Yahoo!, viable the next day. She was likewise an individual from the organization's top managerial staff directors. At the time of her appointment, Yahoo's numbers had been falling behind those of Google for longer than a year and the organization had experienced a few top administration changes. To improve on the administrative interaction and "make the way of life the best form of itself", Mayer dispatched another online program called PB&J. It gathers representative grievances, just as their decisions on issues in the workplace; if an issue produces something like 50 votes, online administration consequently explores the matter. In February 2013, Mayer regulated a significant work force strategy change at Yahoo! that necessary all distant working representatives to change over to in-office rolls. Mayer has been criticized for a large number of her administration choices in pieces by The New York Times and The New Yorker.