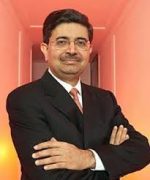 Long Business Description
Uday Kotak is the Vice Chairman and the Managing Director of Kotak Mahindra Bank. He is a self made Indian Business man with a net worth of 7.6 billion dollars. In less than two decades he has not only made a prodigious fortune but has also created a brand name in the banking and investment industry. Presently, Kotak Mahindra Bank is the 3rd largest private sector bank in India.
Personal life of Uday Kotak:
Uday Kotak was born on 15th March,1959 in Mumbai, India. He belonged to an upper middle class family, who were traditionally Gujarati cotton traders and later expanded into other commodities. He did his schooling from Hindi Vidya Bhavan, Mumbai. When Uday was in school he discovered two talents in him:
    Cricket : He was captain of his school's cricket team, and in college he went to play in Kagna League. Kotak is a big cricket fan.
    Maths : He was very sharp in Maths; it was this second talent that determined his path in life. He obtained his Bachelor's Degree from Sydenham College and completed his post graduation in management studies in 1982 from Jamnalal Bajaj Institute of Management Studies.
Uday Kotak married Pallavi Kotak in 1985. They have two children.
Journey of Uday Kotak from the inception of Kotak Mahindra Finance Ltd till date
1986 - The Kotak Mahindra Finance Ltd started with its bill discounting activity.
1987 - Uday's company entered into Lease and Hire purchase market.
1990 - He started with auto finance division.
1991 - He took over FICOM, which is one of India's largest retail marketing networks.
1992 - Made an entry into Funds Syndication Sector.
1995 - He incorporated his Brokerage and Distribution businesses into a separate company – Securities. Also the Investment banking division was incorporated into - Kotak Mahindra Capital Company.
1996 - His Auto Finance Business was hived off into a separate company - Kotak Mahindra Prime Limited. He bought a significant stake in Ford Credit Kotak.
He set up Mahindra Limited, for financing Ford vehicles and launched Matrix Information Services Limited which marked the Group's entry into information distribution.
1998 - He entered the mutual fund market with the launch of Kotak Mahindra Asset Management Company.
2000 - He tied up Kotak Mahindra with Old Mutual plc. for the Life Insurance business.
Kotak Securities launched its on-line broking site. Commencement of private equity activity.
Kotak Mahindra Venture Capital Fund was set up to start a private equity venture.
2001 - * He sold Matrix to Friday Corporation.
* He launched Insurance Services.
* Kotak Securities Ltd. was incorporated into Finance Ltd.
2003 - He converted Kotak Mahindra Finance Ltd into a commercial bank which became the first Indian company to do so.
2004 - He launched, India Growth Fund which was a private equity fund.
2005 - He realigned Kotak Group's joint venture in Ford Credit and their stake in Kotak Mahindra Prime was bought out. Also, Kotak group's stake in Ford credit Kotak Mahindra was sold. He also launched a Real estate fund.
2006 - He bought the 25% stake held by Goldman Sachs in Kotak Mahindra Capital Company and Kotak Securities.
2008 - He launched a Pension Fund under the New Pension System.
2009 - Kotak Mahindra Bank Ltd. opened a representative office in Dubai. He Entered Ahmedabad Commodity Exchange as anchor investor.
2010 – He made the Ahmedabad Derivatives and Commodities Exchange which was a Kotak anchored enterprise, operational as a national commodity exchange.
Today, Kotak Mahindra Bank has the second highest price-to-book ratio amongst major global banks, and the bank's market capitalization has risen 30 times since it went public in 1992 to about $6 billion. Kotak presently owns 48 percent of the stock. It has gained popularity all over the world with its tag line "Think Investments, Think Kotak".