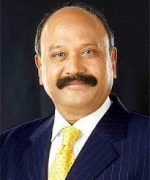 Long Business Description
Grandhi Mallikarjuna Rao is a mechanical engineer, billionaire industrialist, and the founder chairman of GMR Group,a global infrastructure developer and operator based in India.Started in 1978, GMR Group is now present in 7 countries, active in energy, highways, large urban development and airports sectors, known for building and operating world class national assets.
Early life:
G M Rao was born on 14 July 1950, in Rajam, Srikakulam district in Andhra pradesh, India. He was born in an upper-middle-class family whose main business interests involved commodities trading and a small scale jewelry business started by his father in Rajam. After graduating from Andhra University, Rao joined the Andhra Pradesh Government as a junior engineer.
He soon entered the trading of commodities as his entrepreneurial nature made it difficult for him to stay content with a mere day job. After developing good relations with suppliers and customers in the business of commodities trading, he acquired a failing jute mill for at a bargain, this venture proved to be lucrative and allowed GM Rao is use leverage from local banks to acquire other assets. Eventually GM Rao divested his stake in a multitude of industries and started a bank named Vysya Bank in collaboration with ING.
Rao eventually diluted his stake in this business and decided to enter the business of energy and infrastructure with the proceeds from the sale. The entry into the power business allowed Rao to build what would become India leading infrastructure asset developer, as GMR's closest competitor, GVK, is 6 times smaller by market capitalization, making Rao the leader of India as an infrastructure asset developer by revenues, asset size, and market capitalization.
It is also widely accepted in top brass of the state of Andhra Pradesh that Rao's closeness with Chandra Babu Naidu allowed Rao to become the asset developer and owner for Hyderabad's International Airport Rajiv Gandhi International Airport.
Life and career records:
As per Forbes magazine, G M Rao is the richest Telugu man by sheer quantifiable wealth. He is known for his down to earth nature and simplicity despite his enormous fortune. According to media reports, GMR Group is one of India's most trusted and respect brands. GM Rao received the Economic Times Entrepreneur of the year Award in 2007.