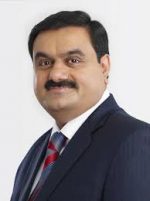 Long Business Description
Gautam Adani (born 24 June 1962) is an Indian business tycoon who is the chairman and founder of Adani Group. According to Forbes, his personal wealth is estimated to be $7.1 billion as of September 2014. He founded The Adani Group in 1988 and today it is a globally integrated infrastructure player with businesses spanning coal trading, coal mining, oil & gas exploration, ports, multi-modal logistics, power generation, Agri Infrastructure, edible oil & transmission and gas distribution. With business experience of more than 33 years, Gautam Adani is an Indian entrepreneur who has led the Adani group from a modest background to create a $10.4 billion professionally managed empire in a relatively short period of time. He is a first generation entrepreneur. The Adani Group's business strategy has revolved heavily around excessive leverage and political patronage. As of 2015, they are one of India's most indebted business groups.
He has also been recognized for establishing the modern Mundra port which was selected as the best port in 2006 by Lloyds. Mundra Port is now India's largest commercial port to have achieved a new landmark of handling 100 million metric tonnes in FY 13-14.
Career:
Instead of joining his father's textile unit in Ahmedabad, Gautam Adani moved to Mumbai at a young age of 18 with only a few hundred rupees. He started his career working as a diamond sorter at Mahindra Brothers for 2 years and then went on to set up his own diamond brokerage business in Mumbai, India. He has claimed that he made his first million within a year, at the age of 20, a big amount during the 1980s.
Mahasukh Adani, Gautam's elder brother and an entrepreneur, called Gautam back to Ahmedabad to run his newly purchased plastic factory.
Soon, Gautam began commodity trading by importing Polyvinyl Chloride (PVC), a key raw material for manufacturing plastic.
Gautam Adani, referred to as 'Gautambhai', is known for his risk appetite. Former IIM-A director Bakul Dholakia, who is associated with the Adani group's educational and CSR initiatives said, "In terms of the risk taking appetite and risk absorption capacity there are very few who can match Gautam Adani. There are many who take large risks, but very few have the ability to face their adversity with courage and conviction".
Adani Group:
In 1988, he established Adani Exports Limited (now known as the Adani Enterprises Ltd), the flagship company of the Adani Group, that traded in a variety of power and agricultural commodities. The economic liberalization in 1991 fuelled the rapid growth of the business and the huge profitability of Adani Exports provided further capital for Gautam Adani to expand his business.
In 1993, the Government of Gujarat invited private companies to run the Mundra Port and in 1995 the contract was given to Adani Group. Today, Mundra Port is the largest Private Sector port in India, with capability of handling close to 80 million tonnes of cargo per annum.
Gautam Adani is also the founder and promoter of Adani Power Ltd (APL), a power business arm of Adani Group. Adani Power has thermal power plants with capacity of 4620 MW, the largest private thermal power producer of the country. It is also the largest solar power producer of India with capacity 40MW.
The group gives 3 per cent of its profits to the Adani Foundation. He is particularly proud of Adani Vidya Mandir, a school in Ahmedabad which admits only those children whose parents have an annual income less than Rs.1 lakh. The school is run by his wife Priti.