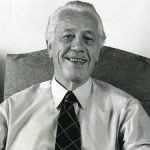 Long Business Description
Søren Kristian Toubro (27 February 1906 – 4 March 1982) was a Danish engineer who co-founded Larsen & Toubro, an India-based conglomerate.
Early days in India
Seeing opportunity in ship repair during wartime, Larsen and Toubro formed a new company called Hilda Ltd. Around this time, L&T also started two repair and fabrication shops. The internment of German engineers who were supposed to build a soda ash plant for the Tatas provided L&T another new opportunity.
In 1944, Larsen and Toubro established Engineering Construction & Contracts (ECC). L&T started collaborating with international companies around this time. In 1945, L&T signed an agreement with the Caterpillar Tractor Company of USA for marketing earthmoving equipment. L&T also started representing British manufacturers of equipment used to manufacture a variety of products including biscuits, glass, hydrogenated oils and soaps.
At the end of World War II, the war-surplus Caterpillar equipment was available in bulk at low prices. However, L&T lacked the money to purchase them. Therefore, Larsen and Toubro decided to raise additional equity capital, and as a result, Larsen & Toubro Private Limited was established on 7 February 1946. After India gained independence in 1947, L&T set up offices in Calcutta, Madras and New Delhi. In 1948, L&T acquired 55 acres (22 ha) of undeveloped land in the Powai suburb of Mumbai.
Larsen and Toubro gradually transformed L&T into a large business house with diverse interests. A 2006 article in The Hindu described Toubro as follows:
A workaholic, he expected the same of others. A hard taskmaster with a schoolmasterly attitude to training he may have been, but the young he mentored still remember the lessons he taught: that no effort was too great to ensure customer satisfaction, that there must be attention to detail in the quest for perfection, and that there must be pride in whatever was being done.
Soren K Toubro served as the director of L&T from 1946 to 1981, and retired from active management in 1962–63. He continued to serve on the L&T and ECC board of directors till 1981.