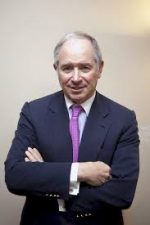 Long Business Description
Stephen Allen Schwarzman (born February 14, 1947) is an American business magnate and financier. He is the chairman and CEO of the Blackstone Group, a global private equity and financial advisory firm he established in 1985 with former US Secretary of Commerce Pete Peterson. His personal fortune is estimated at $12.9 billion, according to Forbes. As of 2015, Forbes ranked Schwarzman at 100th on its World's Billionaires List.
Early life and education:
Schwarzman was raised in a Jewish family in Huntingdon Valley, Pennsylvania, the son of Arline and Joseph Schwarzman. His father owned Schwarzman's, a former dry-goods store in Philadelphia.
Schwarzman attended the Abington School District in suburban Philadelphia and graduated from Abington Senior High School in 1965. He attended Yale University during the same period as George W. Bush, one year behind him (both were in the Skull and Bones society) and graduated in 1969. He then went on to Harvard Business School and graduated in 1972.
Career:
Schwarzman's first job in financial services was with Donaldson, Lufkin & Jenrette, a now defunct investment bank. After business school, Schwarzman started working at the investment bank Lehman Brothers, where he reached the rank of managing director at age 31. He eventually became the head of Lehman Brothers' global mergers and acquisitions team. In 1985, Schwarzman and his boss Peter Peterson started Blackstone, which originally focused on mergers and acquisitions.
When Blackstone went public in June 2007, it revealed in a securities filing that Schwarzman had earned about $398.3 million in fiscal 2006. He ultimately received $684 million selling part of his Blackstone stake in the IPO, keeping a stake then worth $9.1 billion.
In 2007, Schwarzman was listed among Time Magazine's 100 Most Influential People in The World.
Schwarzman has served as an adjunct professor at the Yale School of Management and was chairman of the board of Trustees of the John F. Kennedy Center for the Performing Arts from 2004 to 2010.
In June 2007, Schwarzman described his view on financial markets with the statement: "I want war, not a series of skirmishes... I always think about what will kill off the other bidder."
In August 2010, Schwarzman compared the Obama administration's plan to raise carried interest taxes to Hitler's invasion of Poland in 1939, a comment for which Schwarzman later apologized.
Among Blackstone's largest investments were SeaWorld Parks, in 2009. SeaWorld Parks were the focus of the 2013 film Blackfish, a documentary on Killer Whale attacks at these parks and the ethics of keeping them captive. When asked about the film, Schwarzman said on record that SeaWorld trainer Dawn Brancheau should be blamed for her own death, claiming that the veteran animal trainer broke multiple safety rules before she was pulled into a tank and killed by a six-ton orca in February 2010. Blackstone said in a written statement that Schwarzman "misspoke" in response to the question about Blackfish. The firm said its chief executive had not anticipated a question about the film and had not been briefed on the subject. The firm said Schwarzman does not plan to go back on CNBC to correct the record on air. SeaWorld, for its part, said unequivocally that Brancheau bore no blame. "Dawn was one of the world's most skilled and experienced marine mammal trainers. Her dedication to safety was among the many reasons she was so respected by her colleagues at SeaWorld and within the worldwide animal training community," the company said in a written statement. "We have never said and do not believe that she was at fault for the events of February 24, 2010."
In 2014, Schwarzman was named as one of Bloomberg's 50 Most Influential people of the year.
Philanthropy:
In 2004, Schwarzman donated a new football stadium to Abington Senior High School—the Stephen A. Schwarzman Stadium.
On March 11, 2008 Schwarzman announced that he contributed $100 million toward the expansion of the New York Public Library, for which he serves as a trustee. The central reference building on 42nd Street and Fifth Avenue was renamed The Stephen A. Schwarzman Building.
On May 11, 2015 Peter Salovey, the President of Yale University, announced that Schwarzman contributed $150 million to fund a campus center in the university's historic "Commons" dining facility.