Arvind Subramanian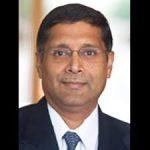 Arvind Subramanian is an Indian economist and the current Chief Economic Adviser to the Government of India, having taken charge of the position on 16 October 2014 succeeding Raghuram Rajan. The post of CEA was lying vacant for over a year since Raghuram Rajan left the finance ministry to join the RBI as governor in September 2013.
He served as the Dennis Weatherstone Senior Fellow at the Peterson Institute for International Economics and a Senior Fellow at the Center for Global Development, both located in Washington DC. Formerly an economist at the International Monetary Fund, he is a widely cited expert on the economics of India, China, and the changing balance of global economic power. Arvind Subramanian is the author of two books, India's Turn: Understanding the Economic Transformation published in 2008, Eclipse: Living in the Shadow of China's Economic Dominance published in September 2011, and co-author of Who Needs to Open the Capital Account? which was published in 2012.
In 2011, Foreign Policy magazine named him one of the world's top 100 global thinkers.
Education:
Subramanian is a graduate of St Stephen's College, Delhi, and did his MBA from the Indian Institute of Management, Ahmedabad. Further, he obtained his M Phil and D Phil from the University of Oxford, UK. He attended the DAV Boy's Senior Secondary School, Chennai, for his high school education.
Positions held:
Subramanian was the Assistant Director in the Research Department of the International Monetary Fund. He is a development economist who worked closely with Reserve Bank of India Governor Raghuram Rajan when both were at the International Monetary Fund. He served at the GATT during the Uruguay Round of trade negotiations. He has taught at Harvard University's Kennedy School of Government from 1999 to 2000. He has also taught at Johns Hopkins' School for Advanced International Studies from 2008 to 2010. Arvind Subramanian's elder brother is V S Krishnan who is an Indian Revenue Service Officer and is presently the Member of the Central Board of Excise and Customs and is a key player in piloting the Goods and Service Tax Bill.
In October 2014, he was appointed as Chief Economic Advisor to Indian government. The post of CEA had been lying vacant since Raghuram Rajan left the Finance Ministry to join the Reserve Bank as Governor in September 2013.
Controversies:
As a Senior Fellow, Peterson Institute for International Economics and Center for Global Development, in March 2013, Arvind Subramanian appeared before United States House Committee on Ways and Means hearing on "US-India trade relations.". During his testimony, Arvind Subramanian said "by discriminating against Indian companies and exporters, (US initiatives) will exert natural pressure on India to open up".