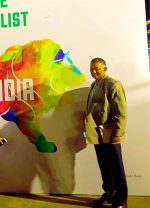 Long Business Description
Ajay Dhumal is an Indian business magnate, who is the Chairman, and Managing Director of K.P. Group, a conglomerate based in Mumbai, India. K.P. Group mainly deals in wind energy, solar energy, cyber security, cement manufacturing, infrastructure development, real estate, warehousing, salt manufacturing, and aquaculture activities.
In 2016, Institute of Economic Studies, felicitated him at an event held in Dubai, and the Indian Ambassador to the United Arab Emirates awarded him the Udyog Ratan Award. K.P. Power, one of the companies of the K.P. Group received a gold medal at the Indo-UAE Economic Cooperation.
K.P. Power also is putting up the world largest private solar park which is a 3,500 MW solar park in Maharashtra, which will attract investment to the tune of $3 Billion (~ 20,000 Crores).
Born:            16 July 1957 Ahmednagar, Maharashtra
Residence:        Mumbai, Maharashtra, India
Nationality:      Indian
Ethnicity :         Maratha
Citizenship:       Indian
Education:        Bachelors of Commerce and Law
Alma mater:     Brihan Maharashtra College of Commerce Government Law College, Mumbai
Occupation      Chairman & Managing Director K.P. Group:
Years active:    1984 - Present
Net worth:        Increase Undisclosed
Religion :          Hinduism
Spouse(s):         Surekha Dhumal (m. 1986)
Children:          Gayatri Dhumal, Yash Dhumal
Parent(s)         Shankarrao Dhumal, Shevanta Dhumal
Business career
During his college days, he started construction of residential buildings in Mumbai in 1982 as a first-generation entrepreneur. In the early 1990s, Ajay Dhumal participated in the Government of Maharashtra encouraged scheme of developing export-oriented aquaculture activity, by acquiring and utilizing thousands of acres of vast saline lands available with the Government of Maharashtra.