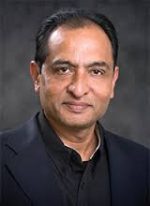 Long Business Description
Syed Basharat Ali, usually referred to as Syed Ali, is the founding chairman, president, and CEO of Cavium Networks, a San Jose, California-based company specializing in MIPS-based network and security processors. Cavium Networks develops and manufactures processor architectures and cores for digital consumer, networking, personal entertainment, communications and business applications.
He received a BSEE from Osmania University, in Hyderabad, India and an MSEE from the University of Michigan.
Career:
Mr. Ali worked at Samsung Electronics, SGS-Thompson, Tandem Computers, and American Microsystems Inc. (now part of ON Semiconductor) before becoming part of the founding management team at Malleable Technologies, which was acquired by PMC Sierra in 2000.
In 2000, Mr. Ali founded Cavium Networks. On May 1, 2007 Cavium had its IPO, and grew to have a market capitalization of 1.3 billion US dollars  in the first week of October 2007.
Awards:
Syed B. Ali received the Ernst & Young Entrepreneur of the Year Award in 2008 and was a national finalist for the award in 2011. The Ernst & Young Entrepreneur Of The Year© award is the world's most prestigious business award for entrepreneurs, spanning more than 140 cities and 50 countries worldwide.