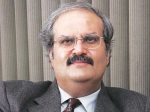 Long Business Description
Sunil Duggal is an Indian entrepreneur and business executive. He is the current Chief Executive Officer of Dabur, India's largest Ayurvedic medicine manufacturer.
Sunil Duggal is the present CEO of Dabur. He joined the Ayurvedic medicine producer in 1995. Today, the brand is a household across India. Twenty years ago, Duggal joined Dabur as General Manager (Sales and Marketing) and basically took care of the Family products Division. Under his dynamic leadership, this particular division saw an unprecedented growth in profits. After a long, enduring stint of hard work, Duggal was made the Vice-president of this division. But the success story did not end there, he was made the Director of Sales and Marketing, Dabur India Limited in 2000.
Duggal is a BITS, Pilani graduate in Electrical and Electronics Engineering and he also holds an MBA from IIM-Calcutta.He has previously worked for Wimco, The Times Of India and also Pepsi Foods. His experience in all these corporations equipped him with the tools and techniques to reach great heights of success at Dabur.
What is motivating about Duggal is the fact that under his leadership, Dabur has heavily invested in rural infrastructure for the growth of its various sectors. He stands testimony to Gandhiji's statement that the real India resides in its villages. But sadly enough, according to Duggal, the dynamic rural growth is now showing signs of a slowdown. Despite the pessimism surrounding the viabililty of investing in the rural infrastructure, Duggal made sure that Dabur doubled its investments there. His only regret today is that the growth story in rural areas has not reached its full potential.
He also believes that employment generation techniques are not fully being implemented, which is leading to losses for the nation's economy. But Duggal is not sitting with folded hands – he believes in the immense potential of the rural areas and therefore, he is ensuring that the company does not stop investing in rural infrastructure and employment generation.
Being a dynamic visionary, the few losses incurred in this endeavour do not pose a grave challenge for him – since Dabur has expanded its outreach to the US and UK as well, and the profit margins are quite high, it accounts for the mitigation of the losses, which are few and far between, in the rural sector.
He does not shy away from taking risks and believes in empowering his employees to take their own decisions with respect to company matters. He does not believe in any unfair hierarchical set-ups which might hinder the way in which the employees in an organisation improvise and take decisions which are fruitful for the organisation. This belief in the potential of the employees and their decisive capability has stood Duggal in good stead.