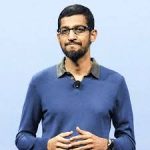 Long Business Description
Full Name       :          Pichai Sundararajan
Born                :          12th - Jul - 1972
Height             :          178 CMS ( 5 Feet 10 Inches )
Birth Place      :          Madurai, Tamil Nadu
Country           :          India
Education       :          Indian Institute of Technology Kharagpur, Stanford University California,
Wharton School of the University of Pennsylvania
Occupation     :          CEO
Industry          :          Internet
Net worth       :          $150 Million
Biography:
Google surprised the world by announcing the appointment of a new CEO on 10th August 2015. It became a proud moment for the Indian community to see an Indian-born make it to the list of the CEOs in the Tech. Industry. Sundar Pichai, a name now well-known across the globe has had his share of struggle before making it to the top.
Early Life and Childhood:
Pichai Sundararajan, more commonly known to us as Sundar Pichai was born in Madurai, in the state of Tamil Nadu, India, on July 12, 1972. He belongs to a lower middle-class family and had never experienced the luxury of watching television or traveling by car in his childhood.
His father Raghunath Pichai  worked as an Electrical Engineer in General Electric in Chennai and therefore, the family lived in the city, at Ashok Nagar. His father was the manager of a factory that made components for electrical objects. The stories of the work challenges faced by his father always inspired Pichai.
His mother, Lakshmi, was a Stenographer until she gave birth to her kids. Sundar has a younger brother as well.
Pichai saw technology in his hands at the age of 12 when his father bought a land line phone for the house. He had an extraordinary skill of memorizing and remembering numbers.  He could keep in mind all the numbers he dialed. Pichai was not only good with numbers whilst at school but also the captain of his high school cricket team.
Education:
Sundar completed his Class X at Jawahar Vidyalaya, at Ashok Nagar and completed the Class 12 from Vana Vani School at Chennai. Pichai then graduated in Metallurgical Engineering from IIT Kharagpur.
He completed his MS (Masters in Science) in Material sciences and Engineering from Stanford University and later went on to complete an MBA from the Wharton School at the University of Pennsylvania.
Pre-Google Career:
Sundar Pichai worked for McKinsey & Company in management consulting during his pre-Google days. He also contributed his talents in engineering and product management at Applied Materials.
Career at Google:
Pichai joined Google in 2004 and is known to have worked on popular products like Toolbar. He also has worked on other products Google Gears and Google Pack, before Chrome was launched.
However, the success of the Toolbar helped Pichai pace his career. Google noticed that the toolbar increased the user searches. This eventually led to the start of Google Chrome; Google's very own browser.
Pichai has led product management and also found Google's client software products such as Google Chrome and Chrome OS. Pichai is the man responsible for driving Google's Chrome OS and browser to the fore.  He was appointed as VP of product development in 2008. He introduced Chrome browser to the world. Soon it was followed by Chrome OS in 2009. Pichai came more into the public limelight at Google presentations from 2008 and very soon became a well-known face of Google. He was the Senior VP of Chrome and apps by 2012.
It was in 2013 that Pichai became a well-known personality worldwide. He stepped into the shoes of Andy Rubin as the overseer of all Android related products, almost after a decade at Google.
In 2015, Sundar was announced to be the new CEO of Google as their well-known leader; Larry Page was retiring from Google to take up the reigns at Alphabet, Inc. their new holding company. Earlier that year, he was announced to be the Product Chief at Google by Larry Page himself.
He was also a running contender for the post of Microsoft's new CEO, a job that ultimately went to Satya Nadella.
Personal Life:
Sundar Pichai married his longtime girlfriend, Anjali Pichai. They were classmates when they studied together in IIT Kharagpur. Together, Anjali and Sundar have two beautiful kids; a son and a daughter.
They have bought a house in Brooklyn, New York for $6.8 million. As he is right now a citizen of US, he resides there with his entire family.
Achievements:
The man responsible for the smooth ties with partners like Samsung is believed to be Sundar Pichai. Android was added by Sundar Pichai to the Google products he oversees on 13 March 2013. Andy Rubin formerly managed Android.
Sundar Pichai serves as a Member of Board of Advisors at Ruba, Inc. He headed Jive Software from April 2011 until 30 July 2013.
Google appointed Pichai CEO on August 10, 2015, after previously being appointed Product Chief by then-CEO Larry Page on 24 October 2014.
He has made over $100.5 million in the year 2015.
Awards:
2015 - Alumnus IIT Kharagpur