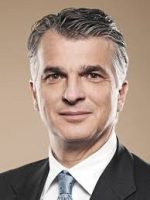 Long Business Description
Sergio P. Ermotti (born 11 May 1960 in Lugano, Switzerland) is a Swiss banker from Lugano, Switzerland. He is Group CEO of UBS since November 2011, having held the position of Group Chief Executive Officer on an interim basis since September 2011. In 2014, following the restructuring process of the UBS AG, he was appointed to the same position of a Group Chief Executive Officer within the new UBS Group AG.
Personal life:
Sergio P. Ermotti was born on May 11, 1960. He left school at age 15, deciding to follow in the footsteps of his father, he began his career as a young apprentice at the Cornèr Bank in Lugano. As an apprentice, Ermotti learned to sell stocks and trade them.
Education:
Ermotti holds a Swiss federal banking expert diploma and is a graduate of the Advanced Management Program at Oxford University.
Career:
After his apprenticeship as a stockbroker at the Cornèr Bank, Ermotti was later promoted to trading. Ermotti earned a diploma as a Swiss federal banking certified expert and a degree in the Advanced Management Program at Oxford University.
In 1985, Ermotti moved to Citibank where he traded equity-linked products and later served as its Resident Vice President. He later went on to Merrill Lynch in 1987 and stayed there for 16 years, holding various positions in equity derivatives and capital markets. He was eventually promoted to co-Head of Global Equity Markets and as a member of the Executive Management Committee for Global Markets & Investment Banking at Merrill Lynch, which he served between 2001 and 2003.
He joined UniCredit in December 2005 as Head of Markets & Investment Banking. From 2007 to 2010, he was UniCredit's Deputy Chief Executive Officer with responsibility for the strategic business area, Corporate and Investment Banking and Private Banking.
Sergio P. Ermotti was appointed Chairman and CEO of UBS's Europe, Middle East, and Africa group and became a member of the Group Executive Board in April 2011. He was appointed interim Group CEO of UBS beginning in September 24, 2011 before being given this post permanently on November 15, 2011. Because of his new responsibility as CEO, he resigned from his position as president of Darwin Airline in 2011. Sergio Ermotti was a member of the Board at the London Stock Exchange between September 2008 and July 2013. In November of 2014, he became Group Chief Executive Officer for UBS Group AG, and in 2015, the Swiss newspaper "Schweiz am Sonntag" elected him as the most successful manager of a company listed on the Swiss Market Index of the year 2015.
Activities and functions:
Stakeholder in the leisure industry group Tessal
Contributor to the LinkedIn Influencers Program, for which he writes about the global economy
Chairman of the Fondazione Ermotti, Lugano
Board member of the Fondazione Lugano per il Polo Culturale, Lugano
Board member of Global Apprenticeships Network
Board member of the Swiss-American Chamber of Commerce
Member of the Institut International D'Etudes Bancaires
Member of the Financial Services Forum
Member of the International Business Council at the World Economic Forum