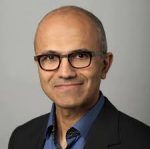 Long Business Description
Satya Nadella is an Indian engineer who has joined the league of technological wizards like Steve Jobs and Bill Gates by the virtue of his great work and dedication. Nadella's educational background undoubtedly played a great role in shaping his technical and leadership abilities. After pursuing a degree in 'Electrical Engineering' from the reputed 'Manipal Institute of Technology' located in India, this tech wizard relocated to the United States. Here, he studied at esteemed institutions like the 'University of Wisconsin' and the 'Booth School of Business'. Nadella's life changed completely after he joined the IT giant 'Microsoft'. Slowly but steadily he grabbed bigger opportunities at the enterprise and went on to manage several divisions of the company. One of Satya's path-breaking accomplishments within the firm was to pave the way for the cloud computing technology, which later went on to become a trendsetter. Nadella even became an important stakeholder in the firm and owned stocks worth millions of dollars and earned a handsome salary, much higher than many engineers of his kind. He became a household name in 2014 after being crowned the 'CEO' of 'Microsoft'. The tech wizard soon became popular amongst sections of the media across the world and is often invited as a guest speaker to many events across the United States.
Career
After completing his education, Nadella joined the well-known firm 'Sun Microsystems'. He worked in this company for a brief period and then moved to the Silicon-valley giant 'Microsoft', in 1992.
Nadella started climbing the corporate ladder steadily while working at 'Microsoft'. He then went on to make important decisions in the interest of the firm.
He was one of the few employees who suggested the concept of cloud computing to the firm. Eventually the company dedicated lot of its time and resources to the development of this technology. The result was the germination of one of the world's largest cloud based entities, named 'Microsoft Azure'.
Satya was later given the responsibility to control the 'Research & Development' department, which belonged to the 'Online Service Division' and was even appointed as the senior vice-president of the same. He joined this department in 2007 and continued being a part of it for the next four years.
Nadella then moved to the Systems and Tools division of Microsoft and was even appointed its president. The annual turnover of Microsoft contributed by this segment of business alone is said to be around $20 Billion today.
He also guided 'Microsoft' to move many of their other projects such as the 'Microsoft SQL Server' and a few other tools to 'Azure'.
Satya's earnings from 'Microsoft' included stakes in stock worth $7.6 Million, as well as an annual salary package of 700,000, as of 2013.
After working in the firm for a period of twenty two years, Nadella was promoted to the designation of the CEO of 'Microsoft' in 2014.