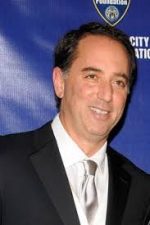 Long Business Description
Richard B. "Rich" Handler (born May 23, 1961) is an American businessman, currently serving as the Chairman of the Board and CEO of Jefferies Group, where he is the longest-tenured CEO on Wall Street.Handler also serves as the CEO and director of Leucadia.
Early life and education:
Handler grew up in New Jersey, graduating in 1979 from Pascack Hills High School in Montvale.Handler received a BA in economics from the University of Rochester in 1983 and an MBA from Stanford University in 1987. Before graduate school, he worked as an investment banker at First Boston, and after as a junk bond trader for Michael Milken at Drexel Burnham Lambert.
Professional career:
Handler joined Jefferies in April 1990 as a salesman and traderand was appointed CEO on January 1, 2001,Chairman in 2002.During his time at Jefferies, between 1990 and 2012, shares compounded annually at 22%.On November 12, 2012, Jefferies announced its merger with Leucadia, its largest shareholder. At that time, Leucadia common shares were trading at $21.14 per share. As of December 31, 2015, Leucadia shares were trading at $17.39 per share.In March 2013, Jefferies merged with Leucadia,and Handler became CEO of both companies.
In April 2012, Handler and Chairman of the Jefferies Executive Committee Brian Friedman formed the Jefferies Global Senior Advisory Board, which now includes James D. Robinson III, Lord Hollick, Michael Goldstein, Bernard Bourigeaud, Dennis Archer, Sir David Reid,Gilles Pélisson, and G. Richard Wagoner. In August 2012, Handler played a lead role in saving Knight Capital Group after they suffered a $440 million loss due to a 'technology glitch.' Together with Brian Friedman, Handler structured and led the rescue,which included making Jefferies the largest shareholder with an investment of $125 million.
In November 2011, ratings company Egan-Jones issued a negative report regarding Jefferies that caused a 20% decline in the Jefferies stock price minutes after the opening bell the following morning.This report was found to contain a number of inaccuracies: Jefferies was accused of having 77% of its shareholder's equity tied up in the same illiquid sovereign debt securities that had just toppled MF Global, neglecting to mention that the position had been hedged, supposedly offsetting exposure.Chris Kotowski of Oppenheimer & Co. made public statements pointing out additional figures in the Egan-Jones report that were 'so grotesquely wrong they should immediately jump off the page to anyone remotely familiar with the numbers.' This included the false claim that Jefferies revenue had declined 37.8% annually over the previous 'couple of years.' In fact, Jefferies net revenues actually increased by 154% from 2008 to 2011 according to company filings, The Egan-Jones report was described by Kotowski in his research report from November 23, 2011 titled "Another Hack Attack" as 'flat out wrong',and was followed by what Richard Handler characterized as a multi-week public attack on Jefferies by Sean Egan.Handler and the Jefferies management team responded with unprecedented immediacy and transparency, collapsing 75% of this sovereign debt position in a matter of days to prove the bonds were hedged and highly liquid, sharply reducing the rest of Jefferies balance sheet, and publicly addressing the accusations on an almost daily basis.This aggressive and unconventional response resulted in an eventual rebound in Jefferies share price from the November lows.
Richard Handler is also Chairman and CEO of the Handler Family Foundation and serves on the Advisory Council of the Stanford University School of Business.For the University of Rochester, Handler serves on the Board of Trustees,as Chairman of the Finance Committee, and as Co-Chairman of the university's Capital Campaign. Handler has donated $25 million for the Jane and Alan Handler Scholarship Fund (named for Handler's parents) for exceptional students from underprivileged backgrounds with the potential for future leadership.