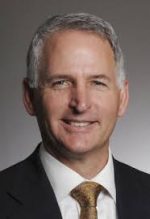 Long Business Description
Gregory David Wasson (born October 19, 1958) is Co-Founder and President of Wasson Enterprise, a family-based investment office, and the former President and CEO of Walgreens Boots Alliance. Prior to the merger of Walgreens and Alliance Boots, Greg was President and Chief Executive Officer of Walgreen Co. (NYSE: WAG), the nation's largest retail community pharmacy chain, which in fiscal 2014 had $76.4 billion of sales, 8,309 locations, and 251,000 employees.
Greg served as chief executive officer at Walgreens and as a member of the company's Board of Directors from 2009 to 2014. Since joined the company in 1980, Greg was appointed to positions of increasing responsibility, including President of Walgreens Health Initiatives in 2002, Senior Vice President of Walgreens in 2004, Executive Vice President of Walgreens in 2005, and President and Chief Operating Officer of Walgreens in 2007.
Greg has served as a Director of Verizon Communications Inc. (NYSE: VZ), since March 2013 and is a member of the Audit Committee and the Human Resources Committee. As of July 2015, Greg was appointed as Director and a member of the Audit Committee of PNC Financial Services Group, Inc. (NYSE: PNC). Greg joined Health Care Service Corporation (HCSC), the largest customer-owned health insurance company, as a Director in November 2015, and in addition to serving on its Board, Wasson serves on HCSC's Finance and Audit & Compliance committee.
In addition, Greg serves on the Trustee Board of the Museum of Science and Industry (MSI) and Board of World Business Chicago (WBA) as well as a member of The Business Council, CEO Perspective, The Economic Club of Chicago, The Commercial Club of Chicago and Chicago Club. Greg and his wife Kimberly are the 2016 co-chairs of the 36th Annual MSI Columbian Ball.
In 2015, Greg received the Sheldon W. Fantle Lifetime Achievement Award for exceptional accomplishments and contributions to the industry from National Association of Chain Drug Stores' (NACDS) and the Grocery Manufacturers Association (GMA) honored Greg with the GMA Hall of Achievement Award. In 2016, Greg received two awards from Purdue University: the Distinguished Alumni Award in recognition of professional and endeavor achievements, and the Career Achievement Award, the pinnacle award bestowed upon alumni who have distinguished themselves through a lifetime of exemplary service in pharmacy and service to Purdue.
Previously, Greg served as a Director of AmerisourceBergen Corporation (NYSE: ABC), a leader in global pharmaceutical sourcing and distribution services, with which Walgreens has a long-term strategic relationship, and served as member of the Board of Directors of Alliance Boots GmbH, the leading international pharmacy-led health and beauty group.
Past roles include Chairman of National Association of Chain Drug Stores (NACDS), the Vice Chairman of Retail Industry Leaders Association (RILA), member of the Healthcare Leadership Council (HLC), The Wall Street Journal CEO Council, and the civic committee of the Commercial Club of Chicago, as well as being a member of the British-American Business Council International Advisory Board. In addition, Greg served many years as a board member of Consumer Goods Forum (CGF), The Field Museum, and the Midtown Educational Foundation and a member of the Illinois chapter of the American Cancer Society's CEOs Against Cancer and co-chaired the society's 2014 Discovery Ball.
Early life:
Wasson was born October 19, 1958 in Lafayette, Indiana, the third of five children of Richard "Dick" and Phyllis Wasson. His family lived in Delphi until he was 13, and then moved to nearby Monticello, Indiana. Wasson graduated from Twin Lakes High School.
Two of Wasson's relatives were pharmacists, and they encouraged him to study pharmacy at Purdue University. Wasson met his future wife there, also a pharmacy student. They married on their graduation day in 1981.