The iconic dhaba which has been taking the charm of Claridges to a newer height is no more associated with its promoter Sanjeev Nanda – A brain child of Mr. Sanjeev Nanda who is also a co-owner of this property. In a recent update, the market is abuzz with news that Sanjeev Nanda the restaurateur has sold its lovely Indian cuisine restaurant to Azure Hospitality.
Claridges has been considered one of the game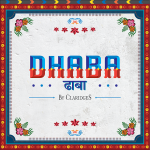 changers in casual dining experience of common Indians. Its Dhaba was founded around 29 years ago to brining the essence of a common dhaba inside the hotel in much suave manner.
As of now, Claridges is running its Dhaba at three prime locations in Delhi & NCR. The restaurant has earned many accolades and awards over the period. The co-founder Mr. Sanjeev Nanda created a niche with this. But now, it seems the time has come to when the identity of this Dhaba is going to be alienated from the name of Mr. Nanda as well as Claridges Hospitality Private Ltd.
Talking about this recent development, Mr. Nanda quipped, "Dhaba By Claridges is a brand built out of the love it has received at The Claridges. We are excited about handing over the legacy of the brand to Azure Hospitality. Our relationship with them and its founding members goes back to The Claridges' era and we are proud that our product will be handled by one of the best hospitality chains in the industry. Azure Hospitality has a great vision for Dhaba just like The Claridges Group."
Well, it is an amazing grab for Azure Hospitality as is reflected in the words of Kabir Suri. Mr. Suri is the co-founder and Director of Azure Hospitality. He narrated his version, "The Indian food industry is undergoing a revolution in terms of experimentation with diverse cuisines. Azure is focused on being at the forefront of that change and acquiring 'Dhaba By Claridges' under Azure Hospitality is a step towards strengthening our position in the Indian food & beverage (F&B) sector. The investment from Goldman Sachs and Max Ventures for our company has further allowed us to aggressively execute our strategically planned expansion and has helped entrepreneurs like ourselves to make our most ambitious dreams match India's massive consumer scale and tremendous market opportunity."
Dhaba By Claridges in DLF place Saket has been a center of attraction since its launch in 2013. The restaurant is famous for its nuanced décor which creates an ambiance of true Dhaba at a plush location as well as a vivid menu. Its mouthwatering Chilli Chicken, Balti Meat and Amritsari tawa chaap has been loved by bon-vivants of Delhi which made it one of the favorite eating joints in the area and definitely a profitable one too.  If one ponders on these details, it's certainly puzzling why Claridges Hotel Group sold such a wonderful property. Is Claridges Hotel Group hopping on some other plans? Well, the market of speculation is hot but we'll have to wait till the clear news comes.