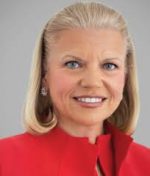 Long Business Description
Virginia Marie "Ginni" Rometty (born July 29, 1957) is an American business executive. She is the current Chairwoman, President and CEO of IBM, and the first woman to head the company. Prior to becoming president and CEO in January 2012, she held the positions of Senior Vice President and Group Executive for Sales, Marketing, and Strategy at IBM. She has been named to Fortune magazine's "50 Most Powerful Women in Business" for ten consecutive years, ranking #1 in 2012, 2013 and 2014, and was one of Forbes magazine's "World's 100 Most Powerful People" in 2014. She was also named to the Time 100 in 2012, and was included in the 50 Most Influential list of Bloomberg Markets magazine in September 2012. Rometty is ranked #2 among CEO's who investors say should be replaced due to poor performance.
Career:
After graduation in 1979, Rometty went to work for General Motors Institute; in 1981, she joined IBM as a systems engineer in its Detroit office.She joined IBM's Consulting Group in 1991. In 2002, she "championed the purchase of the big business consulting firm, PricewaterhouseCoopers Consulting, for $3.5 billion." Rometty became senior vice president and group executive for sales, marketing and strategy in 2009 and is "credited with spearheading IBM's growth strategy by getting the company into the cloud computing and analytics businesses. She was also at the helm of readying Watson, the Jeopardy! playing computer, for commercial use."
On October 25, 2011, IBM announced that she was to be the company's next president and CEO, with Sam Palmisano stepping down but retaining his position as chairman.Rometty's appointment marks the first time a woman has been CEO of IBM.Regarding her promotion, Palmisano stated, "Ginni got it because she deserved it... It's got zero to do with progressive social policies."
On September 26, 2012, IBM announced that Rometty was taking on the added role of chairman of IBM, as Samuel Palmisano prepared to retire at the end of 2012. Rometty commenced her duty as Chairwoman, President and CEO of IBM on October 1, 2012.One of her goals is to focus company efforts on the cloud and cognitive computing systems, such as Watson.
Boards and honors:
]
Rometty serves on the Council on Foreign Relations; the Board of Trustees of her alma mater Northwestern University; the Board of Overseers and Board of Managers of Memorial Sloan-Kettering Cancer Center;and is a council member at the Latin America Conservation Council, a subsidiary of The Nature Conservancy. She also served on the Board of Directors of AIG from 2006 until 2009.
In 2014, Rometty was featured in the PBS documentary The Boomer List.Also that year, she became the third female member of the Augusta National Golf Club.She has received honorary doctoral degrees from Rensselaer Polytechnic Institute (2014) and Northwestern University (2015).
In Fortune's September 15, 2015 issue, Rometty ranked 3rd on their Most Powerful Women List.