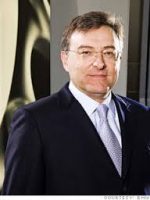 Long Business Description
Dr.-Ing. Norbert Reithofer (born 29 May 1956 in Penzberg, West Germany) is a businessman and former chairman of the board of management (CEO) of BMW. He currently serves as chairman of the supervisory board.
Biography:
After finishing his Fachabitur, he graduated in Mechanical Engineering at the Munich University of Applied Sciences in Munich. He then moved on to the Technical University Munich to study Production Engineering and Business Administration. After graduation he became Research Assistant at the university at the Institute for Machine Tools and Business Administration of Joachim Milberg, under whom he gained his Doctorate.
In 1987, he joined BMW as head of maintenance planning. From 1991 to 1994 he was Director of the Body in White Production Division. From 1994 to 1997 Reithofer then became Technical Director of BMW South Africa. From 1997 to 2000, Reithofer was President BMW Manufacturing Corporation (USA), based in Spartanburg, South Carolina.
In March 2000, he returned to Munich to join the BMW Board of Management, responsible for production. In 2002, Reithofer and Development Chief Burkhard Goeschel halved the standard BMW time it took to reach full production of the new generation E90 3 Series, from six months to three.[4] On 1 September 2006 he succeeded Helmut Panke as chairman of the board and CEO of BMW.
Awards and honours:
2005: Grand Decoration of Honour in Gold (Grosses Goldenes Ehrenzeichen) for Services to the Republic of Austria (2005)
2010: Bayerischen Verdienstorden
2012 Chevaliers of the Légion d'honneur