Nissan Motor Company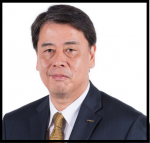 Makoto Uchida was born into the world in 20th July, 1966. He is a Japanese financial specialist who is the current CEO of the Nissan Motor Company, Ltd. Uchida moved on from Doshisha University in 1991 with a degree in Theology. After he graduated, Uchida joined Nissho Iwai (presently Sojitz), a sogo shosha (general exchanging organization) situated in Tokyo, in April 1991.
He joined Nissan without precedent for October 2003, and was named chief in October 2006. In September 2012, he left Nissan to join Renault Samsung Motors for under 2 years. He then re-joined Nissan as a Program Director in April 2014. His Nissan chief vocation began in November 2016 when he was named Corporate VP of the Alliance Purchasing division. He became President of Dongfeng Motor Co., Ltd. furthermore, Senior VP in April 2018. After one year, in April 2019, he was additionally named Chairman of the Management Committee for China. In October 2019, Uchida was collectively picked by the top managerial staff to turn into the new Nissan CEO, getting to work on December 1, 2019.