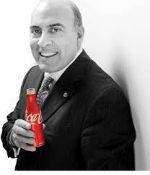 Long Business Description
Ahmet Muhtar Kent (born 1952) is a Turkish-American business executive. He is the chairman and chief executive officer of The Coca-Cola Company. He was appointed to the position of chief executive officer of the company in 2008 and became chairman of the board in 2009.
Early life:
Muhtar Kent was born in 1952 in New York City, where his father, Necdet Kent, was the consul-general of Turkey. After completing high school at Tarsus American College in Mersin, Turkey in 1971, Muhtar Kent went to the United Kingdom to study at the University of Hull. Subsequently, he earned his MBA degree at Cass Business School, London.
Professional career:
Kent at the World Economic Forum in Davos, 2010.
1978–1999
Muhtar Kent found a job at The Coca-Cola Company in Turkey through a newspaper ad in 1978. He toured the country in trucks to sell Coca-Cola, and thereby learned its distribution, marketing and logistics systems.
In 1985, he was promoted to the general manager position of Coca-Cola Turkey and Central Asia, and transferred the headquarters of the company from Izmir to Istanbul. Three years later, he was appointed president of the Company's East Central Europe Division, responsible for 23 countries in a region from the Alps to the Himalayas. Living in Vienna, Austria, he served at this post until 1995.
Promoted further, Muhtar Kent became in 1995 managing director of Coca-Cola Amatil-Europe. In two years, he increased the turnover of the company about 50%, which covered bottling operations in 12 European countries.
1999–2005
In 1999, Kent left the Coca-Cola Company after 20 years of service. Returning to Turkey, Muhtar Kent became CEO of Efes Beverage Group at Anadolu Group, the largest local shareholder of the Coca-Cola franchise in Turkey and one of Europe's largest international beverage businesses. He extended the company's territory from the Adriatic to China.
2005–present
In May 2005, Kent rejoined Coca-Cola after almost 6 years and was appointed president and chief operating officer of the company's North Asia, Eurasia and Middle East Group, a position reporting directly to chairman and chief executive officer Neville Isdell. Muhtar Kent's rise continued and he was promoted in January 2006, to the newly created position of president of International Operations. In this capacity, he was responsible for all operations outside of North America, and all group presidents outside of North America reported to him.
Kent's successful career took him finally to the summit of The Coca-Cola Company, which named him chief executive officer, effective July 1, 2008. He became chairman of the board and chief executive officer, effective April 23, 2009. By 2015 he is paid over US$ 25MM a year by Coca-Cola.
Muhtar Kent is active in the global business community and currently is co-chair of the Consumer Goods Forum, a fellow of the Foreign Policy Association, a member of the Business Roundtable, a past Chairman of the U.S.-China Business Council and current chairman emeritus of the US-ASEAN Business Council. He also was recently appointed as a member of the Eminent Persons Group for ASEAN by President Obama and Secretary of State Clinton. He serves on the boards of Special Olympics International, Ronald McDonald House Charities, Catalyst and Emory University. He received an honorary degree in Doctor of Laws from Oglethorpe University in 2008.
He currently serves on the board of directors of The American Turkish Society and the National Committee on United States-China Relations.
He is also an invitee of the Bilderberg Group and attended the Greece 2009 Bilderberg conference at the Astir Palace resort in Vouliagmeni, Greece.
On May 3, 2014, Muhtar Kent was awarded an honorary degree by the Georgia Institute of Technology during the morning graduation ceremony (at which he gave the commencement address).