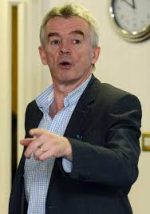 Long Business Description
Michael Kevin O'Leary is an Irish businessman and the chief executive officer of the Irish airline Ryanair. He is one of Ireland's wealthiest businessmen.
Early lifeL:
Michael O'Leary was born 20 March 1961, the second in a family of six, in Kanturk in County Cork. He was educated at Clongowes Wood College, County Kildare. In 1979 he began a four-year Bachelor in Economic and Social Studies programme at Trinity College Dublin. He graduated from Trinity and then worked as a trainee with Stokes Kennedy Crowley (later known as KPMG), studying the Irish tax system. He left after two years in 1985, setting up profitable newsagents in Walkinstown and Terenure, Dublin.
While at Stokes Kennedy Crowley, O'Leary met Tony Ryan, head of GPA (Guinness Peat Aviation, a leasing company). Ryan was one of the firm's clients and O'Leary advised Ryan on his personal income tax affairs. In 1987, he then hired O'Leary as his personal financial and tax advisor, where Ryan's main interest was in GPA. Ryanair was established around this time and originally followed a traditional business model, but quickly began to lose money. Subsequently O'Leary was sent to the USA to study the novel Southwest Airlines business model.
Ryanair career:
O'Leary was deputy chief executive of Ryanair between 1991 and 1994 and was promoted to chief executive of Ryanair in January 1994. Under O'Leary's management, Ryanair further developed the low-cost model originated by Southwest Airlines. O'Leary may have described the inauguration of the ancillary revenue movement during a 2001 interview in The Sunday Times.
"The other airlines are asking how they can put up fares. We are asking how we could get rid of them." The business model envisioned by O'Leary uses receipts from on board shopping, internet gaming, car hire and hotel bookings to replace the ticket revenue from selling airline seats. Savings are also made by negotiating discounts with airports for reduced landing fees. In many cases, regional airports have made no charges so as to secure flights that bring passengers and wealth into their area.
The deregulation of Ireland's major airports and a transformation of traditional full-service airlines are among his demands.
He claims he was approached to front the BBC's version of The Apprentice but declined as it was "too much of a distraction".
In August 2014, O'Leary unveiled plans to develop a Ryanair Israel to operate extensive flights to and from Israel and a large network of European cities. The plans include the establishment of a large hub in Israel.
Controversy and reputation:
O'Leary has a reputation for loose talk in the airline industry and among its regulators. Many press articles have often described him as arrogant, and prone to making comments which he later contradicts. He has been extravagantly outspoken in his public statements, sometimes resorting to personal attacks and foul language. His abrasive management style, ruthless pursuit of cost-cutting and his explicitly hostile attitude towards corporate competitors, airport authorities, governments, unions and customers has become a hallmark. He was reported to have been aggressive and hostile in dealings with a woman who was awarded free flights for life in 1988. In 2007, he was forced to retract a claim that Ryanair had cut emissions of carbon dioxide by half over the previous five years; the claim should have been that emissions 'per passenger' had been cut by half. O'Leary has been reported to have impersonated a journalist in an attempt to find information passed on to a newspaper following a safety incident on a Ryanair flight. On occasion he has apologised for personal attacks under threat of legal action.[29] He has been criticized by a judge for lying, who said he was lucky not to be found guilty of contempt of court.
In a press conference discussing Ryanair's planned intercontinental service RyanAtlantic, O'Leary jokingly described the airline's planned business class travel experience as featuring "whores and rum". In 2002 he said that his company is against any long-haul transatlantic services, stating that:
The low-cost model only really works for short-haul flights [...] If we started flying farther afield, we'd have to do something stupid like introducing what I call a 'rich class' to make it pay.
However, more than a decade later, in 2013 he said, while at the Paris Air Show, that he wanted to sell cheap flights from the U.S. to Europe for as low as 10 euros ($13) or $10, if conditions were right. He said that he needed a fleet of at least 30 twin-aisle aircraft and access to ports (e.g. major U.S. and European cities, in the airline industry there are so called slots or sometimes gates, often regulated by law, and without obtaining them it is impossible to have regular service to airports). Despite his claims in 2002, there were so called budget airliners in the past – for example Laker Airways flights from London to New York in the late 1970s or long-hauls at budget-fares on other continents like AirAsiaX in Malaysia and the Australian Jetstar Group.
Reacting to the decision to close European airspace in April 2010 over worries about the ash plume from an erupting Icelandic volcano he said "there was no ash cloud. It was mythical. It's become evident the airspace closure was completely unnecessary." One study concluded that serious structural damage to aircraft could have occurred if passenger planes had continued to fly. Scientists and the industry as a whole remain unconvinced, however.
In May 2014 O'Leary was highly critical of a 24-hour strike by Aer Lingus cabin crew, staged on 30 May 2014. Aer Lingus, whose biggest shareholder at the time was O'Leary's company Ryanair, had to cancel 200 flights and disrupt travel plans for 200,000 people. O'Leary accused Aer Lingus of "mismanagement" of its employee relations, called for the sacking of a board member, and said the striking employees should be punished by having their discount travel incentives withdrawn for a year.
According to the Bilderberg Group Michael O'Leary will be attending the secretive Bilderberg Group this year.
Registration of private car as taxi:
Michael O'Leary's personal Mercedes-Benz S500, operated by O'Leary Cabs and complete with "for hire" roof bar
In 2004 he purchased a taxi plate for his Mercedes-Benz S-Class, to enable it to be classified as a taxi so that he could legally make use of Dublin's bus lanes to speed up his car journeys around the city. A press report suggested that since he had stopped driving his own taxi, he has employed a driver with full PSV licence. In 2005 the Irish transport minister expressed concern at this abuse by O'Leary and others.