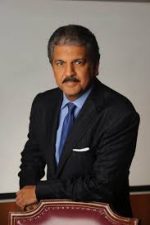 Long Business Description
Anand Mahindra, the group's Managing Director since 1997, became its Chairman in 2012, a position from where he continues to lead our evolution. As the group's leader-statesman, Anand's tenure has seen us strengthen our presence in India, blaze new trails the world over, and focus on innovation and technology as Mahindra's key drivers in the 21st century. Anand also spearheads our efforts to codify our philosophy of empowering people everywhere to Rise, and has made Mahindra a coveted, purpose-driven brand. His global perspective has led to a renewed focus on our culture, making Mahindra a great place to work. Mahindra's critical shift in its mind-set, from second-to-none to a global federation of innovative companies, has been Anand's singular achievement.
Anand's career at Mahindra began at Mahindra Ugine Steel Company Ltd., the country's foremost producer of specialty steels, as an Executive Assistant to the then Finance Director. In 1989, he was appointed its President and Deputy Managing Director. Two years later, he moved to Mahindra & Mahindra Ltd., kick-starting our era as the country's dominant producer of off-road vehicles and agricultural tractors. His storied rise has seen the group acquire, amongst others, Swaraj Tractors, Ssangyong Motors, Reva Electric Car Company, Satyam Computer Services, Gipps Aero, Aerostaff Australia and Peugeot Scooters.
Anand is co-founder of the Harvard Business School Association of India and has served on the Boards of the National Stock Exchange of India and the National Council of Applied Economic Research, as Chairman of the Governing Council of the National Institute of Design, and as a member of the Council of Scientific & Industrial Research. Some of his other noteworthy accolades include being listed by Fortune Magazine as among the World's 50 Greatest Leaders (2014) and being voted "Entrepreneur of the Year" at the Forbes India Leadership Awards (2013).
A noted business commentator and humanitarian with over 3.1 million followers on Twitter, Anand frequently makes the case for Indian business at global forums. He initiated the Nanhi Kali programme two decades ago to provide free education to economically under-privileged girls. He's also responsible for one of the largest personal donations overseas by an Indian - an endowment of 10 million USD to the Harvard Humanities Center, which has been renamed as the Mahindra Humanities Center.
Anand graduated with honours (magna cum laude) from Harvard College, Massachusetts, in 1977, and secured an MBA from Harvard Business School in 1981.