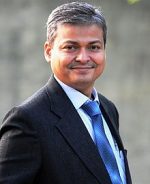 Long Business Description
Lalit Agarwal is an Indian businessman, who is the Chairman and Managing Director of V-Mart Retail Ltd, a retail chain in India. Agarwal holds a bachelor's degree in Commerce from Bombay University and a Diploma in Financial Management from the Narsee Monjee Institute of Management Studies, Mumbai.
Before founding V-Mart, Agrawal worked in the printing, packaging and retail space. He founded V-Mart Retail in 2002, and as of 2015, the company has over 122 stores in 105 Indian cities. The company went in for successful IPO in 2013, and is now listed on Bombay Stock Exchange and National Stock Exchange of India. As of 2015, its market capitalization exceeds Rs.1,000 crores.
Before setting up V-Mart, he was also involved in setting up of a printing and packaging unit, a water theme park in Kolkata and was associated with a retail chain till 2003. He has more than 16 years of rich experience in the retail industry. With a vision to establish the concept of "value retailing" in certain untapped regions of India, he setup up units of retail stores under the brand name of "V-Mart" in the year 2003. He spearheads the company and is responsible for formulating and implementing the business plans. Passionate about creating value for all the stakeholders in the existing ecosystem. Understanding the nuances of various businesses is what gives him kick. Fortunate to be part of retail revolution unleashing in India. Expanding current set of business is prime target right now, but would be open to opportunities, if any, which may or may not be related to retail. Open to Joint ventures or any alliances.