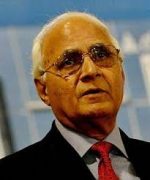 Long Business Description
Kushal Pal Singh Rathore or K.P. Singh ( born 15 November 1931) is an Indian real estate developer and the chairman and CEO of real estate developer DLF Limited, founded by his father-in-law Thakur Raghvendra Singh  DLF has an estimated land bank of 10,255 acres (42 km2), with about 3,000 acres (12 km²) being in Gurgaon, called DLF City. Singh's personal wealth is estimated at $2.5 billion. His autobiography, named 'Whatever the Odds: The Incredible Story Behind DLF', was launched in 2011; Jack Welch spoke at the launch.
Early life and career:
K.P. Singh was born on 15 November 1931 in Bulandshahar, Uttar Pradesh in a Rajput family. His father Th. Mukhtar Singh was a reputed lawyer in Bulandshahr. After graduating in science from Meerut College, Uttar Pradesh, he pursued Aeronautical Engineering in the UK and was subsequently selected to the Indian Army by British Officers Services Selection Board, UK. He was commissioned into the 9th Deccan Horse cavalry regiment. In 1960 he joined American Universal Electric Company and, soon after its merger with DLF Universal Limited in 1979, he took over as the Managing Director with Th. Raghuvender singh.
Positions:
Chairman of the Board, DLF Limited.
Chairman and Director of 31 different private companies engaged in various sectors of the economy.
Member Commerce & Industry (FICCI).
Member of Delhi Vision Group to overview the Master Plan of Delhi 2021.
Honorary Consul General, Principality of Monaco.
Positions held:
• President of the apex industry chamber of the country, Associated Chamber of Commerce & Industry of India (ASSOCHAM).
• President of the PHD Chamber of Commerce and Industry.
• Director of Central Board, Reserve Bank of India (RBI).
Activities:
Kushal Pal Singh constructed numerous earthquake-proof office buildings, apartments, shopping malls and leisure facilities in Gurgaon. Under his tenure, as the Chairman of DLF, the company went for an initial public offering (IPO) in 2007 and made about US$2.24 billion, one of the largest IPOs in India. Market capitalization of the company increased to $24.5 billion, making Singh and his family one of the richest clans in the world. Jack Welch, the former chairman and CEO of General Electric, said in an interview that Singh was one of the initiators for GE's entry into India.