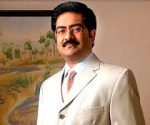 Long Business Description
Kumar Mangalam Birla is an Indian industrialist and the Chairman of the Aditya Birla Group, one of the largest conglomerate corporations in India. The group is India's third largest business group. He is also the Chancellor of the Birla Institute of Technology & Science.
Early life and education:
Kumar Mangalam Birla is a fourth generation member of the Birla family from the state of Rajasthan.He spent his childhood in Kolkata and Mumbai. He has B.Com degree from University of Bombay, Chartered Accountancy from ICAI& an MBA from London Business School, London, where he is also an Honorary Fellow.
Career:
Mr. Kumar Mangalam Birla took over as Chairman of Aditya Birla Group in 1995, at the age of 28. From a turnover of US$3.33 Billion and operations in 8 countries in 1995, today under his stewardship, the Group's revenues are in excess of US$41 billion with operations straddling 36 countries. He has made 36 acquisitions globally – the highest by an Indian multinational.
An iconic figure, Mr. Birla has won several accolades, to cite a few – the International Advertising Association's (IAA) "CEO of the Year Award 2016"; US India Business Council (USIBC) 2014, "Global Leadership Award"; Economic Times "Business Leader Award" in 2003 and 2013; Forbes India Leadership Award – Flagship Award "Entrepreneur of the Year 2012; NDTV Profit Business Leadership Awards 2012, "Most Inspiring Leader"; CNBCTV18 IBLA "Business Leader for Taking India Abroad 2012"; CNN-IBN "Indian of the Year Award 2010"; JRD Tata "Leadership Award 2008"; NDTV's "Global Indian Leader of the Year 2007".
An educationist, Mr. Birla is the Chancellor of Birla Institute of Technology & Science (BITS). He is Chairman of IIT, Delhi, and Chairman of Rhodes India Scholarship Committee for Oxford University. He serves on London Business School's Asia Pacific Advisory Board and is an Honorary Fellow of the London Business School.
A Chartered Accountant, Mr. Birla earned an MBA from London Business School.