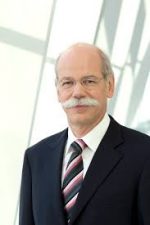 Long Business Description
Dieter Zetsche (born on May 5, 1953 in Istanbul, Turkey) is a German businessman and the Chairman of the Board of Directors of Daimler AG and Head of Mercedes-Benz Cars since 2006 as well as member of the company's Board since 1998.
He was born while his father, Herbert Zetsche, a civil engineer, was temporarily in Turkey for a dam construction project. The family returned to Germany in 1956. Dieter Zetsche attended school in Oberursel (near Frankfurt am Main) and studied electrical engineering from 1971 to 1976 at the University of Karlsruhe; he graduated as an engineer. He completed his doctorate in engineering in 1982 at the University of Paderborn.
With Daimler-Benz:
He joined Daimler-Benz in 1976, working in the research department. In 1981, he became Assistant Development Manager at the Vehicles business unit. He became a member of the mlerChrysler's Board of Management in 1998 and served as the President/CEO of Chrysler Group from mid of 2000 to December 31, 2005, where he was credited with a turnaround of DCX's American operations. Since January 1, 2006, he succeeded Jürgen Schrempp as Chairman of DaimlerChrysler (now Daimler AG), being succeeded in the position of Chrysler Group CEO by Thomas W. LaSorda.
He was the main influence behind the demerger of Daimler and Chrysler in 2007, which ended in the newly formed Daimler AG.
Dieter Zetsche is credited with bringing significant core changes to the Mercedes-Benz company in an effort to turn around a decade long downward spiral in product quality and customer satisfaction. He was named in Time Magazine's 2006's list of 100 most influential people.
Awards:
Dieter Zetsche was awarded "Entrepreneur of the year" in 2008 from the German media.
Controversy:
Zetsche was investigated for the involuntary manslaughter of a 27-year-old engineer who died in an accident caused by an intern on one of the firm's test tracks. The newspaper Stuttgarter Zeitung reported earlier that the parents of the engineer felt the company should not have put the intern behind the wheel of a fast car on a test track. However, it was generally agreed that the public prosecutors were over-reaching their prosecutorial authority in holding Zetsche responsible, as he was not responsible in any way for regulating the limits of interns' activities while at the company.