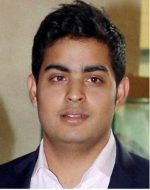 Long Business Description
Akash Ambani is the scion of the Ambani family. Like father Mukesh and Grandfather Dhiru Bhai, Akash is also a family name. Whenever out of home, he always misses parents, brother Anant and twin sister Isha Ambani.
Akash Mukesh Ambani (born 1991) is an Indian businessman who is the chief of strategy of Jio, an upcoming 4G service provider. He is the elder son of Mukesh Ambani, the chairman and managing director of Reliance Industries Limited (RIL) and Nita Ambani, founder of Reliance Foundation. After graduating in Economics from Brown University, in October 2014 he was inducted into the boards of directors of Jio and Reliance Retail.
Business career
In 2014, after receiving an undergraduate degree in Economics from Brown University, Ambani interned with his father at the family business. Later that year, he was inducted into the boards of directors of Reliance Jio and Reliance Retail.
In October 2015, Ambani quoted that his company, Jio, was evolving every day like a startup. A provider of 4G data services along with a collection of online services, Jio will launch in April 2016. An employee launch of the services happened in December 2015 at the presence of its brand ambassador, Shahrukh Khan.
Early Life
As you might know, Akash Ambani was born in Mumbai and completed his education from the same city. His schooling was done from Dhiru Bhai Ambani International School. This school is run by a trust which is headed by Nita Ambani.
After completing his school, Akash went to the USA for higher studies. He applied to all top universities, and got a call from the Brown University. His father Mukesh didn't interfere anywhere in this selection.
Last year, Akash returned to India after completing his major in Economics. Just one week later, he was asked by Mukesh Ambani to join the executive team of Reliance Jio. In fact, Mukesh is following the rules set by Dhiru Bhai.
If you believe a prominent business magazine, Akash doesn't even spend time outside his home. His work schedule is planned by Mukesh Ambani. He works on five days a week. After that, he is required to be at home. There is very little spare time left for him.
Hobbies of Akash Ambani
As mentioned, the first hobby of Akash Ambani is to spend time with his family members. Apart from that, he is also an animal lover. He is also a very good photographer. And, in the end, he loves to keep up with the latest in the world of technology.