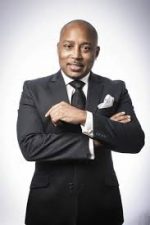 Long Business Description
Daymond Garfield John[3] (born February 23, 1969) is an American entrepreneur, investor, television personality, author and motivational speaker. He is best known as the founder, president, and CEO of FUBU, and appears as an investor on the ABC reality television series Shark Tank.
He is currently based in New York City.
Career:
FUBU
Wool hats with their tops off and tied with fishing line were popular, and John noticed them being sold for $20, which he considered overpriced. He went home and sewed around 90 hats with his next-door neighbor. They sold their homemade hats for $10 each in front of the New York Coliseum, and made $800 in a single day.
Sensing potential, Daymond and his mother mortgaged their house for $100,000 to generate start-up capital. In addition to Brown, he recruited longtime friends J. Alexander Martin and Keith Perrin into the business, and began sewing the FUBU logo onto hockey jerseys, sweatshirts, and T-shirts. To make ends meet, John held a full-time job at Red Lobster, working on the FUBU business in between shifts. In 1993, he convinced LL Cool J, an old neighborhood friend, to wear a FUBU T-shirt for a promotional campaign. Later, while filming a 30-second advertising spot for The Gap, LL Cool J wore a FUBU hat in the commercial and incorporated the line "for us, by us" in his rapping.
In 1992, Daymond received $300,000 in orders and also an offer for participating in Macy's (M) at a Las Vegas fashion trade show. Today, the brand is reportedly worth $6 billion.
Shark Tank:
In 2009, John joined the cast of Shark Tank, a show in which John and four other business executives listen to business pitches from everyday people, and decide whether or not to invest money in their projects.
Assuming every on-camera deal was followed through, John has invested $7,667,000 dollars in Shark Tank projects as of August 6, 2015.
Awards and reception:
Book cover of The Brand Within.
John has received numerous awards, including Brandweek Marketer of the Year, the NAACP Entrepreneurs of the Year Award (which he won twice), the Advertising Age Marketing 1000 Award for Outstanding Ad Campaign, the Essence Award, Crain's New York Business Forty Under Forty Award, Ernst & Young's New York Entrepreneur of the Year Award, the Brandeis University International Business School's Asper Award for Excellence in Global Entrepreneurship, Details 50 Most Influential Men, and the Congressional Achievement Award for Entrepreneurship (which he won twice).
FUBU has received attention from the sports and entertainment industry, and has been worn or endorsed by LL Cool J, Janet Jackson, Will Smith, Mary J. Blige, Busta Rhymes, Magic Johnson, Lennox Lewis, and Whitney Houston.
Filmography:
The Crow: Wicked Prayer (2005) as Proud Foot Joe
Shark Tank (2009–present) as himself
The Game (2013) as himself
The Real (2013) as himself, episode 3
Sharknado 2: The Second One (2014) as himself